In 2020, the St. Louis Symphony Youth Orchestra (SLSYO) will celebrate a half-century of educating and mentoring student musicians from the greater St. Louis area. Founded in 1970 by renowned conductor Leonard Slatkin, the SLSYO comprises just over 100 student musicians who are selected by competitive auditions before a panel of St. Louis Symphony Orchestra (SLSO) musicians.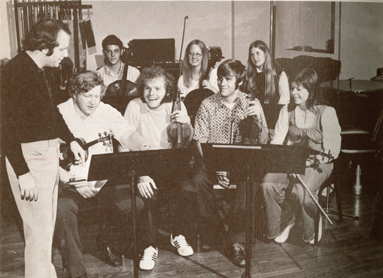 In addition to rehearsing and performing challenging orchestral repertoire under the direction of conductor Gemma New, student musicians receive regular coaching and mentoring from the world-class musicians of the SLSO. The youth orchestra presents three concerts per season in Powell Hall.
"The experience of playing in a youth orchestra gives one such a strong skill set that they can then use in their future professions. Additional to learning an instrument and orchestral repertoire, they learn the benefits of listening, discipline, the benefits of having a long-term worth ethic, teamwork, leadership, emotions and expressing oneself, being creative, solving challenges," says New, a member of Local 293 (Hamilton, ON). "These young musicians are deeply enthusiastic and passionate about music and attaining the highest level of skill possible on their instruments. You can feel it and see it every week in the Saturday rehearsal. It is inspiring to see their incredible progress throughout the year from that first rehearsal to the last concert."
There are over 2,000 SLSYO alumni across the US in a wide range of professions, including six current members of the St. Louis Symphony Orchestra.
Felicia Foland, second bassoonist with the SLSO, is one such alumna, as well as a coach for the current student musicians with the youth orchestra.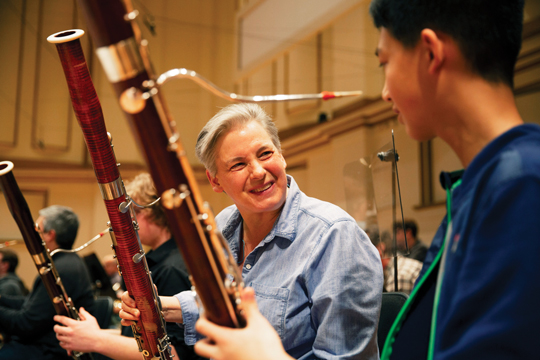 "I was thrilled, as a teenager, to play in a beautiful concert hall with a great conductor, Leonard Slatkin, who founded this orchestra, when I was a member," Foland says. "Maestro Slatkin treated the youth orchestra to a professional atmosphere with the most beloved orchestral repertoire. The level of work and the environment is ideal in preparing and presenting a peek into the professional world of orchestra music making."
Foland says the SLSYO student musicians learn a "broad perspective" in the approach of their orchestral ensemble skills. "It is a special joy for me, at one time in the shoes of these wonderful musicians myself, to work with them, as I know exactly how they feel—a little bit nervous, a lot of excitement, and an eagerness to achieve their goals."
Steven W. Hoover, Local 2-197 (St. Louis, MO) secretary-treasurer and a professional musician, was a member of the youth orchestra trombone section from 1975 through 1978. "It was my first real opportunity to play in a great sounding ensemble, performing great music, in an awesome venue," he says. "It gives young musicians the chance play at a higher level than they might otherwise get to, and to meet other like-minded players."
Siblings Joyce and Scott Hammann both played in the SLSYO in the 70s, Joyce on violin and Scott on French horn. Joyce went on to become a world-renowned professional violinist, and Scott took the path of a freelance musician while also working as an engineer. "The SLSYO is truly exceptional and I often look back and think how fortunate I was to be part of something excellent in my life," says Scott, a Local 2-197 member.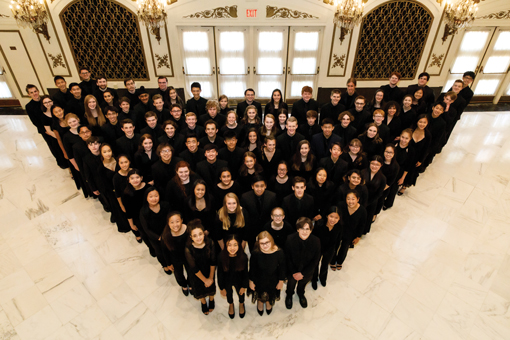 "Hard to believe 50 years has passed since my first year of Youth Orchestra," says Joyce, a member of Local 802 (New York City) who was accepted into the youth orchestra at age 11 and became co-concertmaster at age 12. She is currently the concertmaster for Phantom of the Opera on Broadway.
"The way the orchestra was set up was very similar to the professional orchestras I have performed with. It felt like family," she says. "Gerhardt Zimmermann was our esteemed conductor at that time, and I was lucky enough to be able to perform Stravinsky's 'A Soldiers' Tale' with him conducting on this tour. We had fun rehearsals with him in the basement of my house, exciting musical times I will never forget as he breathed life and inspiration into this music. I will be forever grateful to SLSYO for creating many musical opportunities for me, preparing me for leading sections, teaching me how to be a good colleague, and most importantly, for all the marvelous fun we had playing great music."
In January, the SLSYO is hosting a reunion concert for all former members to play with the orchestra one more time. The orchestra currently is trying to contact as many of the 2,000 alumni as possible. Any former members of the St. Louis Symphony Youth Orchestra who would like to join in the reunion concert or get more information can email yo50@slso.org or visit the website at www.slso.org/en/edu/youth-orchestra.