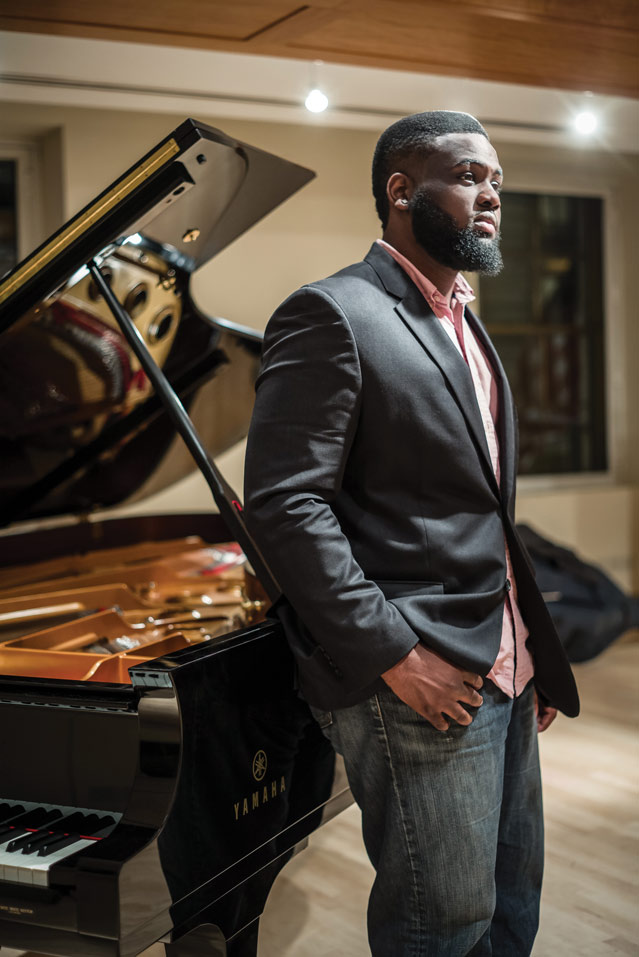 Twenty-one-year-old James Francies of Local 65-699 (Houston, TX), is not your typical college student. At the School of Jazz at The New School, where he studies jazz piano performance, he juggles course work with professional gigs, which these days include touring across Europe.
He's already performed with heavy hitting Local 802 (New York City) members such as Joe Lovano, Houston Person, and Terrell Stafford. Later this summer, he'll be working on his debut album with Blue Note Records—and simultaneously on a duo album with drummer Eric Harland.
When he was 15, Francies met drummer and fellow Houston native Chris Dave, who was impressed with the young pianist. When Francies moved to New York City, Dave recommended him for The Tonight Show band, The Roots, where Francies subs. From there, more doors opened and he started getting calls from people like Stefon Harris of Local 802. He's played with the Thelonious Monk Institute All-Star Jazz Sextet, The
Next Generation Jazz Orchestra, and the Texas Music Educators Association's All-State Jazz Ensemble.
In addition, Francies won the Ruth and Eli Nadel Scholarship Award at Stanford Jazz Workshop (2012-2013), earned a full scholarship to Skidmore Summer Jazz Institute in Saratoga Springs, New York, and was awarded the Moran Scholarship Award from pianist and 2010 MacArthur Fellow, Jason Moran of Local 802.
At 17, he was a recipient of the AFM's President's Youth Award. He's played in the Grammy Jazz Session Combo, the Monterey Jazz Festival, Montreal Jazz Festival, at The Kennedy Center, and Jazz Standard in New York City.
Classically trained at the High School for Visual and Performing Arts in Houston, he says he got a taste of performing and traveling early on. "I've been surrounded by music my whole life. My mom played clarinet and my dad and grandmother sang in the choir," Francies says.
Francies shares his accomplishments with everyone who has helped him over the years, from his parents, who encouraged him to immerse himself in the rich musical culture of Houston, to teachers, like Bobby Lyle who took him to the next level of improvisation. Francies says, "I thought I should join the union early. I'd be ready to get work and recording contracts through the union."
His favorite composer is Igor Stravinsky, followed by Oscar Peterson and Art Tatum, but his musical interests cross over into broader cultural expression. Francies is just as comfortable playing on Chance the Rapper's Grammy Award-winning album, Coloring Book (where he played keyboards on the hit single "No Problem"). He's worked with drummer and producer Questlove of The Roots on numerous projects, plus commercials, film scores, and singles for different artists. 
He views his own art through a global lens, drawing especially on the influence of black culture. "To be a true artist you need to reflect what's going on now. For me, in different segments of a set, I'll incorporate different speeches or words. I want it to be a learning experience for the audience. Beyond music, it's how you carry yourself. Being a young black pianist who travels the world may not be typical. I try to show younger people that you can be something," he explains.
A perfect opportunity arose for Francies when he collaborated with other musicians on the compilation album, Nina Revisited: A Tribute to Nina Simone—a contemporary and nostalgic record that echoes Simone's complex place in the fight for social justice. The album accompanied the release of the documentary, What Happened, Miss Simone? Francies composed the opening track, the cheeky "My Mama Could Sing," sung by Simone's daughter, Lisa Simone.
He's been named twice to the Village Voice's annual Pazz & Jop poll for composition and jazz arrangement. He often takes inspiration from what he hears. Most interesting is what he sees when composing. Francies has a form of synesthesia, which according to experts, applies to only about 5% of the population. The most common form is grapheme-color synesthesia, in which people perceive individual letters of the alphabet and numbers to be shaded or tinged with a color. 
He explains, "When I hear a note or chord, I see colors with it. I'll have different colors in different orders to arrange harmonies and melodies, or harmony superimposed on something else. It's like a third eye. When I see it, it's kind of like a flash from a camera inside my head."
Now, he's paying it forward. In between New York City and international tours, Francies returns to teach master classes at his old high school.