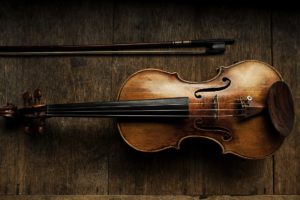 On March 6 of last year, following nearly three years of lobbying and negotiation between music stakeholders (represented by the AFM) and DOT officials, details of the rules for bringing musical instruments onboard US airlines were announced. Though musicians are experiencing less problems since the FAA Modernization and Reform Act of 2012, the regulation is only effective if the airline crew is ready and willing to abide by its rules. Among those guidelines, US carriers are required to allow passengers to board with small musical instruments, like a violin, provided it could be stored in an overhead compartment or under the seat in front of you.
On April 17 internationally acclaimed violinist and Local 20-208 (Chicago, IL) member Rachel Barton Pine was denied boarding with her violin—a 1742 Joseph Guarneri "del Gesu" violin. The instrument, insured for $20 million, is on lifetime loan from an anonymous benefactor. Pine was the first person down the jetway to her American Airlines flight, and her only other carry-on was her purse. It was the pilot who eyed her violin and stated he would not allow it on his plane. She tried to explain that it would fit (as it had many times before) in the overhead compartment and tried to restate American Airline's own policy, in line with the FAA Modernization and Reform Act.
The pilot simply stated: "It is not going on because I say so." Pine was forced to take another flight in the morning where her violin was easily accommodated in the overhead compartment.
"The Department of Transportation and the airlines have established important policies to protect musical instruments. However, those policies are meaningless if they are not enforced, or if the airline staff and crews are not properly educated and trained," she says.