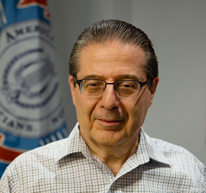 by Patrick Varriale, Director AFM Electronic Media Services Division and Assistant to the President
It is with great pride that I present to you this year's International Musician focus issue dedicated to musicians that perform or plan to perform services in the world of electronic media (nonsymphonic) and the division of the AFM that serves and protects the interests of those musicians—the Electronic Media Services Division (EMSD). Our cover story features Brent Mason, a session guitarist, whose résumé spans more than 35 years, and has been a union member in good standing for all of those years.
On this site you will find articles from EMSD staff that we hope all readers will find of interest. We've covered the gamut, from the importance of seeing to it that your recorded product is properly covered to the emerging world of new media. In addition, there is an article from Recording Musicians Association (RMA) President Marc Sazer you should read. I am grateful to him for his contribution to this issue.
We also have an up-to-date list of the dedicated staff ready to assist you in their particular fields of expertise. I am very proud of the folks that work tirelessly in this division—they make my life so much easier. Thanks to their efforts, we have been able to expand our services even more to address the myriad of tasks and projects that we encounter on a day-to-day basis.
This issue also includes a reprint of "Frequently Asked Questions and Answers about Electronic Media" authored by EMSD Alumnus Michael Manley (now the director of the AFM Touring/Theatre/Booking Division), a revised version of "Top 10 Reasons to Record AFM".
So, please take some time to sit back, relax, and read these articles, as well as the material we have provided. Let us know if you have any questions or comments.
My Overview of the AFM Convention
In June, I participated in the 100th Convention of the AFM. With only two exceptions, I have had the honor of attending all conventions as part of the setup team that oversees the inner workings of this momentous event.
However, this year's convention was different for me on two fronts. It was my first as co-coordinator with Assistant to the President Ken Shirk. Ken did a masterful job and I was happy to work with him in leading our talented and hardworking "crew" through the months in advance detailed preparation process and the volume of "on the ground" moving parts at the actual event. The fact that it took place at a new venue, with a new hotel staff to work with, made it all the more challenging and the success of it all the more rewarding.
It was also my first convention in the capacity of EMSD director. It was quite daunting, to say the least, to see to it that the heavy volume of activity in the EMSD New York, West Coast, and Canadian offices continued to run like a well-oiled machine, while at the same time taking on the many responsibilities as co-coordinator of this landmark convention.
Among EMSD's "eleventh hour" projects I simultaneously attended to were: speaking with and preparing agreements for producers and attorneys to cover employment for our musicians; advising local officers and members; meeting project deadlines; providing time sensitive information to our counsel; and conducting research for the next round of recording agreement negotiations.
I owe my ability to juggle a wide variety of projects and multitasking to many years of experience working with former EMSD Director and mentor Dick Gabriel. There was no one better than Dick at evaluating multiple tasks and devoting the time necessary to see to it that all aspects of a given project were given the attention required. Not all of them came to fruition, but many of them did.
I have been with the AFM for 42 years, and the enthusiasm I feel from helping make our convention run smoothly and the satisfaction I experience from representing the interests of recording musicians never get old. And to accomplish them on these levels I can't help but find it truly amazing.