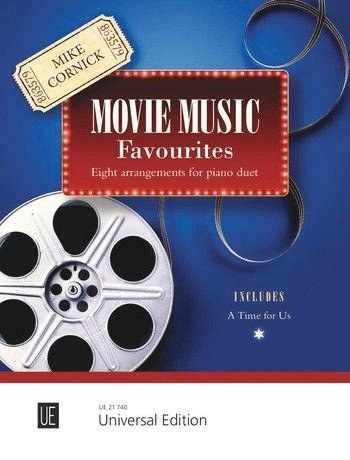 This collection of piano duet arrangements from the movies embraces a wide range of styles. Primo and secondo play-along tracks are provided on the accompanying CD. Among this volume's tunes are: Gymnopédie No. 1 (E. Satie from The Pallbearer), "The Blue Danube" (J. Strauss II, from 2001: Space Odyssey), "Dance of the Hours" (A. Ponchielli, from Fantasia), "A Time for Us" (N. Rota/L. Kusik/ E. Snyder, from Romeo and Juliet), and Gnossienne No. 1 (E. Satie from Chocolat).
Movie Music Favourites: Eight Arrangements for Piano Duet,
by Mike Cornick, Universal Edition, www.universaledition.com.