In March, the Music Performance Trust Fund (MPTF) launched an uplifting documentary, Never Too Old. The film spotlights the experience live music performances create for performing musicians and their audiences as they come together at three senior centers located in New York City, New Orleans, and the Los Angeles area. The official release of the film was March 19 in New York City and the first screening was at VISIONS Center on Aging, also in New York.
The 27-minute documentary highlights the MPTF's MusicianFest initiative to provide free musical performances at senior centers and assisted living facilities in the US and Canada. Never Too Old explores the many paths that led these musicians, sometimes seniors themselves, to perform for the older audiences. Audience members share their impressions about what these live music performances mean to them. Senior center professionals give their perspectives of the impact these small performances have on the physical, mental, and social wellbeing of the individuals they serve.
"Live music's impact on the lives of seniors is truly immeasurable," states MPTF Trustee Dan Beck. "These performances stimulate our emotions and get people to interact with each other, to get up and move, and to reconnect with joyful memories."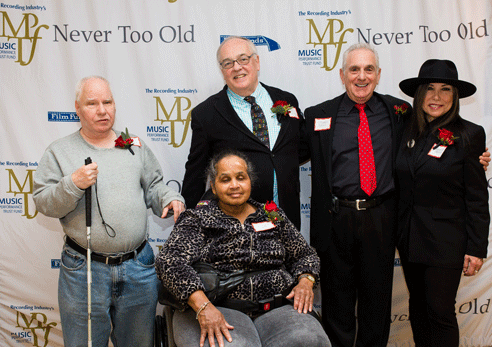 "The state has cut funding for our senior centers," explains Harmony House Senior Center Executive Director Norman Smith. "For these individuals to want to take their time to come here, it's important to us. It makes us feel that someone cares. We care about them and they care about us. I think it's a plus-plus for all of us." Harmony House Senior Center in New Orleans, Louisiana, evolved from an abandoned firehouse after Hurricane Katrina, to become a central gathering place in the city's Treme section.
Elyse Nordholm Garcia, senior center director at Long Beach Senior Center in California, adds, "At least 40% of our population is homeless or semi-homeless. They come here and they can relax and escape into the entertainment. Then we get to know what's going on in their lives and if we can help them with services."
Never Too Old is available in multiple lengths. In addition to the full 27-minute version, a 10-minute version provides the essence of these messages while focusing on the reach and goals of MusicianFest. MPTF will provide an abridged version to AFM locals for use on their websites and in meetings in their communities.
You can view the full film on the website musicpf.org/never2oldmusicfilm. For more information on arranging a film screening or organizing a MusicianFest performance in your local's community, call MPTF at 212-391-3950.