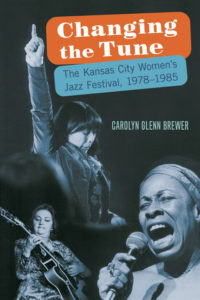 In 1978, jazz in our country largely remained a boys' club. Two Kansas City women, Carol Comer and Dianne Gregg, challenged that inequitable standard. With the support of jazz luminaries Marian McPartland and Leonard Feather, inaugural performances by Betty Carter, Mary Lou Williams, an all-star band of women, plus dozens of Kansas City musicians and volunteers, they created the annual Kansas City Women's Jazz Festival. For eight years they fought for equality with swing and bebop. This book is the story of how two friends proved jazz genderless, changing the course of jazz history.
Changing the Tune: The Kansas City Women's Jazz Festival, 1978-1985, by Carolyn Glenn Brewer, University of North Texas Press,
www.untpress.unt.edu.