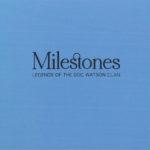 Created and compiled by Doc Watson's daughter, Nancy Watson, this book set includes stories by Doc and other family members, collages of more than 500 Watson family photos, plus 94 recordings spanning 1954-2007 on four CDs. "This set is a broad and personal offering from within the Watson family itself and is presented with such care," says producer Roy Adrade of East Tennessee State University. "It is both eclectic and traditional, and presents Doc Watson as he has never been heard before, but also features other members of the Watson Family."
Milestones: Legends of the Doc Watson Clan, by Nancy Watson,
Open Records, www.docwatsonmilestones.com.