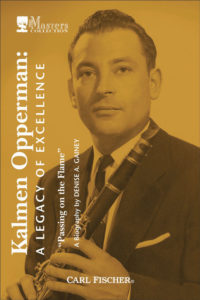 Kalmen Opperman is remembered for his dedication to teaching. This biography explores his story, from self-taught musician to a 50-year career playing in orchestra pits for Broadway musicals and ballets. The book includes interviews with former students and reflections from those closest to Opperman. Author Denise Gainey, his longtime student and research colleague, explores his pedagogy and countless contributions to the clarinet's canon.
Kalmen Opperman: A Legacy of Excellence, Passing on the Flame,
by Denise A. Gainey, Carl Fischer, www.carlfischer.com.