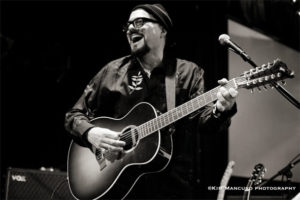 With a steady day gig as music director and bandleader for the Basic Cable Band on Conan, and involvement in enough side bands to make your head spin, life for musician Jimmy Vivino, of Locals 47 (Los Angeles, CA) and 802 (New York City), is full. Being bandleader is what he's worked toward for his entire life.
Following in his father's footsteps, Vivino began playing trumpet as a child. "My father was a great trumpet player and my first teacher," says Vivino. A carpenter by trade, his dad encouraged all three of his sons to pursue music, and all of them eventually worked in entertainment.
Jimmy Vivino says that he got his calling at about age nine. He learned to play keyboard, and by age 16, he taught himself to arrange for big bands. "I bought a book by Walter Piston and just started writing. It was great to hear something [played] back that I had written," he recalls.  That was the beginning of his lifelong fascination with charts.
As a teenager, he also joined AFM Local 248 (Paterson, NJ), along with his brother Jerry. "I've been in the union ever since. It's great with the TV show; if we ever have a problem we talk to the union," says Vivino, who is quick to recognize the work of the AFM. "I don't envy the union trying to keep up with finding residuals and payments. I respect everything they do for us. They've got to chase people all over the world now because of social media. It's a thankless job."
When Conan moved from network television to cable, the dynamics of today's entertainment industry became even more apparent to Vivino. The show is now a product of the Internet, and an audience that no longer makes appointments to watch a television show. He acknowledges that this type of market, not only makes it more challenging to earn a living in the entertainment industry, but also makes it difficult to organize entertainers.
"Viewers download it, stream it, watch it on demand—the whole world is computers now," says Vivino. "It used to be a guy with a cigar would come in and say, 'I'm from the Federation, did you guys pay your dues?' Now, we've seen the transformation of how tracking and all this stuff has changed."
Jersey Roots
Back in those days before the Internet, when things were simpler, Vivino recalls the happening New Jersey music scene where he matured as a performer along with Bruce Springsteen of Locals 47 and 399 (Asbury Park, NJ), Jon Bon Jovi of Local 204-373 (New Brunswick, NJ), Richie Sambora of Locals 47 and 399, and Southside Johnny. "Everybody played and they knew everybody. All these guys were on the scene and playing clubs up and down the Jersey coast," he says.
Vivino says he got his first big break from Allan Pepper who was manager of The Bottom Line in New York's Greenwich Village. "I would come in every few weeks with a different act, backing up Phoebe Snow or my brother Floyd with his review," says Vivino. "He [Pepper] came up to me and said, 'I noticed you put a lot of bands together; I've got an idea for a show.'"
That show was Leader of the Pack (1984), about the life of songwriter Ellie Greenwich and her music. On the show, Vivino worked with Paul Shaffer of Local 802 whom he credits with showing him "how to listen to a rock and roll band from the bass and drums up."
"He was putting the rhythm charts together and I was doing all the sweetening, so I learned a lot about band leading from Paul," says Vivino. "He was very busy; this was 31 years ago so Letterman was in about its second season. I had never met anybody quite like Paul who was so good at getting the best out of players."
Late Night
Vivino has been guitarist, arranger, and music director for Conan's shows since the first Late Night with Conan O'Brien back in September 1993. He was recruited by Conan's original bandleader, Max Weinberg. Vivino took over as bandleader when Conan moved from New York to Los Angeles in 2008. Due to Weinberg's other "part-time" job on the East Coast (as drummer for The Boss) he couldn't relocate. Vivino refers to his bandmates in The Basic Cable Band—Scott Healy (keyboard); Mike Merritt (bass); Mark Pender (trumpet, acoustic guitar, vocals); Richie "LaBamba" Rosenberg (trombone, tambourine); Jerry Vivino (saxophone, flute, clarinet); and James Wormworth (drums)—as his brothers. He's played with Merritt, Wormworth, Healy, and of course, his real brother Jerry, for 30-plus years. LaBamba and Pender came from Southside Johnny and the Asbury Jukes. All of them are now Local 47 members, though a few have held onto their Local 802 affiliation as well.
Leader of the Band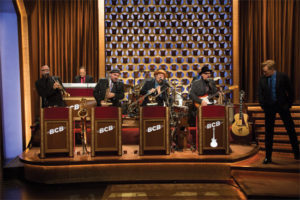 "Trusting the people you hire and hiring the right people are two very important things," Vivino says. "As a leader, the best thing to do is nothing really, and let it happen around you."
He describes his job as unlike any other 9 to 5. Typically, the show's writers come up with a bunch of ideas by the time Vivino arrives in the morning. "I love the fact that the writers are intuitive and impulsive because comedy is something that you can't plan. It depends on what happens in the news; there might be a spark of an idea that just explodes. It's a lot like improvisation—fly by the seat of your pants—and that's what keeps it exciting."
One of the major differences with cable versus network TV shows is the amount of writing that goes on. "We don't just go and pay millions of dollars a year for third party music because we don't have the budget, so I get to write it," Vivino explains. "Stylistically, I might have to write an orchestral piece, heavy metal, and then new age yoga/cool down music. There are so many facets to the stuff we have to deal with on a show like this."
"My favorite is when somebody says we need a disco piece like something from the '70s—man, I'm all over that!" he adds. "Disco was great—overblown strings, horns, guitars; it was this big bloated machine in the '70s that sounds really great when I hear it now."
"Walking onto the Warner Bros. lot every day is like a dream come true; in our very studio they shot Casablanca and The Goonies and that's what I feel my life is like, too—everything between Casablanca and The Goonies!" he laughs.
Along with all the creativity that goes into the show, Vivino truly enjoys working for host Conan O'Brien. "He loves music and having live music is very important to him; I can't stress enough how great that is," says Vivino.
The show's guests are another perk. He's met and performed with some of his musical heroes, among them: B.B. King, Al Green, Isaac Hayes, Hank Williams, Jr., Willie Nelson of Local 433 (Austin, TX), Chet Atkins, Danny Gatton, Ruth Brown, Bonnie Raitt of Local 47, Pete Townshend, Chuck Berry of Local 2-197 (St. Louis, MO), and Ray Davies.
Though Vivino admits that playing with musicians he has long respected, like Pete Townshend or Willie Nelson, can be intimidating at first, it's a blast. "I would say that everybody I've ever played with here has always been a joy," he says.
Energy on demand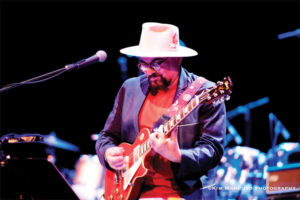 Aside from accompanying various skits, intros, outros, and cues, one of the jobs of The Basic Cable Band is to keep the audience pumped during commercial breaks. "We are here to entertain and we don't stop," he says. "Energy is the most important thing to keep the audience warmed up. You have to know how to read the audience. It's not about how great you play; it's the energy you give off and people understanding what you are playing. It's a process, and the hour goes by so quickly because we have so much fun."
According to Vivino, among the hardest things to get used to in playing for a show like Conan is the need to stop a song on a dime. "We stop anywhere in a song, maybe not even in a logical place. When the camera moves towards Conan there's a point where you have to stop. The band gets very good at that, but it's the hardest thing for people to get used to," says Vivino. "Max used to call it 'Lifting the needle off the record at any point.'"
"You have to pay attention," he continues. "The stage manager counts us in to the commercial. I pick up my cue from when Conan says, 'We'll be right back'; I have to be careful not to step on him. It's a little awkward at first getting that timing together, but it's a flow that happens with a bandleader and host that you get used to."
As much fun as it is, playing on Conan is still a job. After the workday ends around 6:00 p.m. or so, the Basic Cable Band members go out and play. "My brother goes over to the Baked Potato and blows his brains out playing bebop; for me, it's the blues; Scott Healy has a nine-piece band he arranges for; LaBamba has a big band; Mike Merritt plays with Rock and Candy Funk Party with Joe Bonamassa. Everybody is doing different things outside of here," says Vivino.
"I couldn't just finish work here and at the end of the day go home," he explains. Aside from solo work and some producing, Vivino plays with The Prisoners of 2nd Avenue, Rumble & Twang with Lee Rocker, The Barn Burners, The Rekooperators, Jimmy Vivino & the Black Italians, as well as the successful Beatles tribute band The Fab Faux.