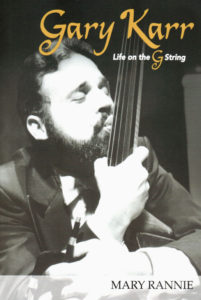 Gary Karr's career as a double bass soloist was launched in 1962 by Leonard Bernstein, in a Young People's Concert at Carnegie Hall, which was viewed on television by 7 million people. Gary Karr gained legendary status for his virtuosity and inimitable lyricism, infectious sense of humour, and pioneering spirit. In 1967, he founded the International Society of Bassists. The Local 247 (Victoria, BC) member continues to perform and record at age 75. Emotional, surprising, and entertaining, his story appeals to fans, musicians, music-lovers, and biography enthusiasts.
Gary Karr: Life on the G String, by Mary Rannie, Friesenpress,
www.friesenpress.com.