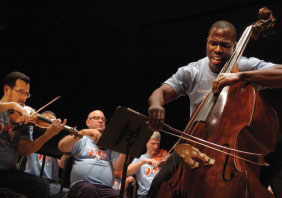 Musicians of the Grand Rapids Symphony have been in negotiations with management since April for a new CBA. The previous contract, covering 50 full-time and 30 part-time musicians, expired August 31.
Under that agreement, musicians received small raises of 2% to 3% in each of the past three seasons. Those were small steps to work toward rebuilding wages that were cut drastically in 2009. Negotiations have not just focused on salaries and work rules, but also strategies to grow the orchestra.
The first official concert of the 2015-2016 season took place in mid-September, but the musicians organized and presented a free concert at Grand Rapids Public Museum just after Labor Day to raise public awareness. A standing-room-only audience of approximately 255 filled the museum.