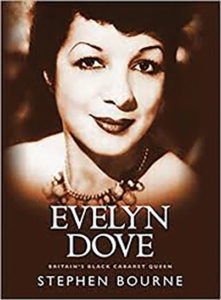 The first black female singer on BBC Radio and the first black British female singer to work in America, Evelyn Dove was a trailblazer in the arts industry. Refusing to be constrained by her race or middle-class West African and English backgrounds, she embraced the worlds of jazz, musical theatre, and cabaret, and mesmerized audiences with her grace and beauty. This book examines her extraordinary career filled with many highs and lows. It is illustrated by more than 50 rare photographs from her private collection, now in the possession of author Stephen Bourne.
Evelyn Dove: Britain's Black Cabaret Queen, by Stephen Bourne,
Jacaranda Books Art Music Ltd., www.jacarandabooksartmusic.co.uk.