Bass player Chuck Rainey has graced the recordings of the best musicians and the biggest hits of the last 50 years. His epic discography, with bass line credits on more than 400 albums, is legendary: King Curtis, Louis Armstrong, Mose Allison, Donald Byrd, Marvin Gaye, Diana Ross, Quincy Jones of Local 47 (Los Angeles, CA), Aretha Franklin, Allen Toussaint, Roberta Flack of Local 161-710 (Washington, DC), and Steely Dan. 
Whether it was the bass in the organ he heard as a kid in the 1940s or the upright bass in the big bands, each decade delivered a sound Rainey of Local 47 would eventually try to duplicate. Slam Stewart, Keter Betts, and Charles Mingus all inspired him. As a bass player in the Motown era, he learned all the top-40 songs, especially the bass lines of the prolific James Jamerson. "When I play, I'm a part of everybody I've ever heard," Rainey says.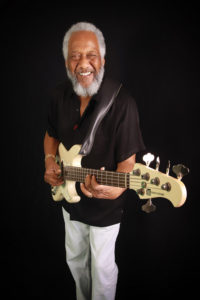 Rainey was classically trained on the trumpet and viola and was a brass major in college, playing the baritone horn in the school's popular brass ensemble. Today, he can confess, "I always wished I was the tuba player." He was raised in Youngstown, Ohio, a steel town that buttresses Pennsylvania and West Virginia. Back in the day, it was a regular route for many entertainers, especially bluegrass and R&B acts. "I got a chance to hear it all," he says.
In the '60s, he picked up the guitar and, after a stint in the military, he started playing with local bands. He spent a year in Montreal, playing with saxophonist Sil Austin before moving to New York City in 1962, where he played with the great King Curtis. In 1965, Curtis and his All-Star band opened for The Beatles on their US tour. The side band members knew little about The Beatles.
Rainey says, "To us, it was just a better paying gig and an opportunity to travel across the US in large music forums." It was not until the fifth or sixth show that he was able to hear them perform. "I was amazed with their harmony. George and John were great companions during the tour. Both spent a lot of time visiting with us on the tour plane—talking, playing cards. We remained friends for years after the tour."
In 1972, Rainey made a move to Los Angeles to join Quincy Jones's big band. There, he established a reputation as a top-notch studio musician. "Your character, personality, how you handle your ego—all those things make a difference [as to] who gets hired and who keeps a job," he says. As a young up-and-coming player, Rainey understood the need to be open and adaptable. He saw plenty of musicians get jobs, only to be replaced quickly because they were not able to handle themselves in more structured settings.
Rainey cofounded the Rhythm Intensive clinic in 2014 and has written several bass-playing textbooks. In his new book, The Tune of Success: Unmask Your Genius (with drummer John Anthony Martinez) Rainey draws on education strategies he uses in his workshops. The scope of the book is vast, covering chord theory and shapes, octave exercises, and walking bass lines, and includes every genre and style—R&B, funk, country, Rainey's preferred thumb-slap technique, and his signature lock-and-groove style.
In his clinics at bass camps, in high schools, and arts schools, he says, "I encourage kids to listen to everybody. They need to be inspired by somebody." It's in this setting that the generational divide is most apparent. Players of Rainey's generation wanted to help each other out. In hard times, especially, they were generally happy just to be making music together. Nowadays, he observes, "A lot of people want to be superstars, to have instant recognition."   
In an industry dictated by cultural whim, Rainey offers simple advice for new musicians, particularly would-be studio players: "Show up. Be there so people can see how you play, how you talk, how you act, what you're bringing to the table. That's how professional relationships are formed, how friendships are formed. You can see the person you're working with, get a feel for their playing and personality." He adds, "The union is like a club. They protect you, but you've got to show up."
In 2011, Rainey suffered a stroke, which left him paralyzed on his left side. He could not afford to be impaired, he says, so he needed to find a way to rebuild his muscles. Six months later, he could speak without slurring. After four years of physical therapy, which included practicing meditation and Hatha yoga—a ritual he continues today—and through sheer grit, he made a full recovery. "The body is a wonderful machine," Rainey says. "If you have the mindset, you can find a way to resolve a lot of issues—by trusting your body. I pressed on and regained my strength."
Rainey says he owes his recovery to the health insurance he got through the union, which he's had since 1962. He began his career with Local 72 (Youngstown, OH), which at the time was the "black union," he explains. From there, he went on to Local 802 (New York City) and Local 47.
At 76 years old, Rainey has seen his name become a brand. He has compiled educational videos, and has developed courses for the Musicians Institute and Dick Grove Music Workshops. He still enjoys teaching master classes and has been a visiting instructor at almost every major university in Europe. For eight years, he has been involved with the Billboard Live/Japan tours, as part of a "dream team" rhythm section with Marlena Shaw. For the last 10 years, he has been an instructor at Victor Wooten's Center for Music and Nature outside of Nashville, Tennessee. 
"As long as you have a mindset to like something, you never stop learning," Rainey says, sharing one of the tenets he has observed throughout his life. "You play and do what you've got to do and finally, one day you realize you've made it. In my mind, it was always the love of music. It was a journey."