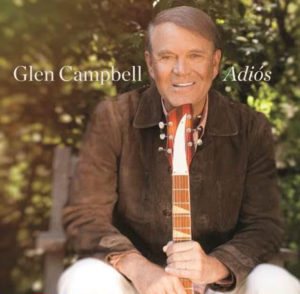 On June 9 legendary singer and guitarist Glen Campbell of Local 47 (Los Angeles, CA) releases his final album, Adiós. In a career spanning five decades, he has sold more than 50 million albums. The album was recorded following Campbell's Goodbye Tour launched following his diagnosis of Alzheimer's disease in 2011.
Glen's wife, Kim, felt a sense of urgency following the tour. She wanted to get him into the studio one last time to capture what magic was left. "What you're hearing when listening to Adiós is the beautiful and loving culmination of friends and family doing their very best for a man who inspired, raised, and entertained them for decades—giving him the chance to say goodbye to his fans, and put one last amazing collection of songs onto the record store shelves."
The family turned to Local 256-733 (Birmingham, AL) member Carl Jackson. Campbell's longtime banjo player produced, performed on the album, and helped his friend. The 12 tracks on the album feature songs that Campbell loved but never before recorded. Though he struggled at times, Campbell was elated to be in the studio.
Campbell, 81, is reported to be in the final stages of the disease. He is living in Nashville, surrounded by friends and family.