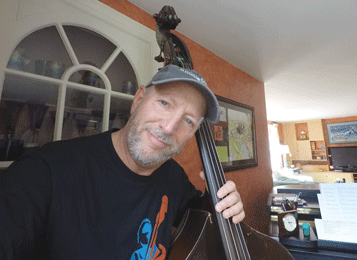 Bruce Gertz has been on the Boston jazz scene for 42 years. A bassist, composer, and producer, he's also an educator, joining a coterie of top players on the faculty of his alma mater, the Berklee College of Music.    
The Local 9-535 (Boston, MA) member picked up the guitar at age 10. "I kept playing in the lower register, the bottom four strings." At 14, he switched to the electric bass, saying, "The bass always felt so good to me. I could feel those vibrations in my gut."
In 1966, he bought a classic Fender Precision for $245 from a music store in his hometown of Providence, Rhode Island. At age 16, when he was playing blues and rock, a bandmate gave him the Charles Mingus record, Blues and Roots, and Gertz became captivated by its jazz style. "I listened to it a thousand times. A jazz guy playing blues. I heard blues in a whole other way. He played so powerfully," says Gertz.   
The upright bass became his focus when he had the opportunity to take lessons from a classical bassist in Boston. That eventually led to an audition at Berklee. Gertz taught ensembles during his senior year at Berklee, while playing on the local scene. His acoustic bass teacher John Neves often asked Gertz to sub for him when he doubled-booked gigs. On one such occasion, Gertz found himself on stage with Alan Dawson, Ray Bryant, Helen Humes, and none other than, Count Basie.
Gertz spent six years studying advanced improvisation with jazz guru Charlie Banacos, renowned for his ear-training methods. Gertz says, "One of his big things was transcription, a lot of [Local 802 (New York City) member] Ron Carter and Ray Brown. I'd transcribe lines, solos off records. It was a combination of analytical and ear-training—to see a microcosm of a form in eight beats of a bass line."
Soon after graduation, then chair of the bass department and Local 9-535 member Rich Appleman hired Gertz who was by then accomplished in both acoustic and electric bass and known for his solos. Appleman had just added electric bass as a principal instrument to the curriculum.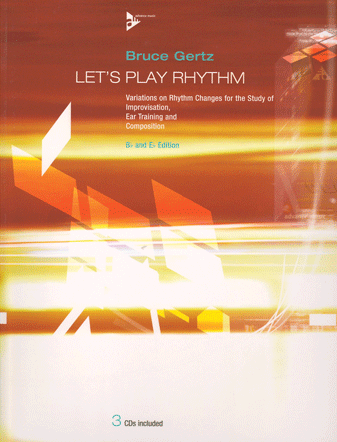 Gertz has performed locally with Mick Goodrick (of Local 9-535), Mike Stern of Local 802, and longtime fellow Berklee professors George Garzone and Gary Burton, guesting with lead artists Bob Berg, Charles McPherson, Joe Lovano of Local 802, Bill Frisell of Local 802, Lee Konitz, Gil Evans, and John Abercrombie. Gertz has also toured with legends Billy Eckstine, Maynard Ferguson, and Dave Brubeck. He and celebrated Boston-based saxophonist Jerry Bergonzi have been playing together for 40 years.
As a composer, it was natural for Gertz to write every day. He'd been teaching for a while when he realized he had enough compositions and lessons for a textbook. His bestseller, "Walkin,'" wasfirst published in 1982. It was followed up by 22 Contemporary Melodic Studies for Electric Bass,
a book of études designed to enhance solo and improvisational technique.
The project was also a way to challenge his own reading skills, he says, "Itwas an experiment to write melodic material that was different than the bebop vocabulary, to give me some original melodies that would be unique and not sound like they were derived from anyone else."
He's written the compendium, Mastering the Bass (Books 1 and 2) and a method book for all instruments titled Let's Play Rhythm. Complete with bass lines, grooves, and solo material, Gertz incorporates melodies—diatonic, rhythmic, pentatonic/blues scale, symmetric diminished, and upper structure triad and intervallic—and includes free-form style tracks of swing, funk, Latin, and open jazz for students to follow.
Along with his Berklee composition and improvisation classes, Gertz teaches high school students, usually ones bound for music schools. "Some love a theoretical approach," he says. "They'll try this diminished scale over this dominant chord—and then they listen to examples of Thelonious Monk using it in a melodic way."
He explains, "You're not going be able to play a stream of notes like Coltrane's 'sheets of sound,' but you can take these little pieces that are playable on your instrument and make them into something fantastic."
Teaching and playing are his focus, but his passion for composition has led to a prolific catalog containing some 200 recorded works. Gertz created his own label, Open Mind Jazz, under which he's produced 15 albums since 2007.
At 65, Gertz has been recognized with awards from the International Association of Jazz Educators and the Jazz Education Network. He has also received numerous honors for outstanding bassist from the Boston Music Awards and ASCAP.
He still plays regularly, three to six times a week, alternately with his group Trio-Now, the Bruce Gertz quintet, a quartet, and as a sideman. Of the industry now, he says that, while having an online presence is essential and YouTube hits provide access, Gertz maintains, screens are two-dimensional. "Doing live gigs has energy, feedback from the audience. It's a personal experience," he says.