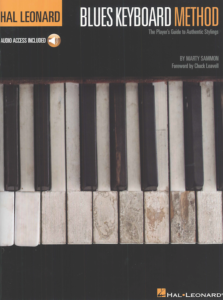 The ability to play blues piano in an authentic style is a special skill that takes time to learn and develop. Aside from experimenting to find the right groove, feel, timing, chords, voicings, it takes time to learn the licks and how to listen to the other instruments and vocals to effectively complement them. This comprehensive and easy-to-use guide focuses on the basics of style and includes lots of licks to learn. Purchase of the book includes access to online audio tracks for downloading
or streaming.
Blues Keyboard Method: The Player's Guide to Authentic Stylings,
by Marty Sammon, Hal Leonard, www.halleonard.com.