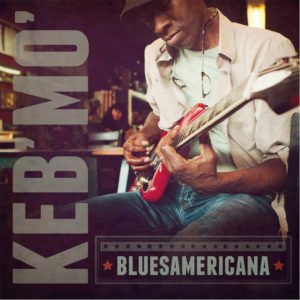 Musician Kevin Moore of Local 47 (Los Angeles, CA) paid his dues as a session musician, struggling to find his voice, before finally discovering the blues infused roots music he is recognized for today. When he debuted as Keb' Mo' two decades ago, he embarked on music that he admits is "too happy for the blues, too funky for folk, and too city for country," building a successful career as a singer and songwriter in the wider genre of American roots music.
Mo' recalls leaner times, and how hard he worked to establish himself as a Los Angeles studio musician. Then he got what he thought was his big break in 1980. "I had a nice record deal and it was a big flop," he admits. "By 1982 nobody was calling me for gigs. So, I thought, 'This is it.'"
He wasn't thinking about giving up music, but he had his doubts about his ability to earn a decent living in the industry. "I was wandering around doing whatever—I played salsa music, blues, and I tried to play jazz," he says.
Then something that he calls magical happened—though he didn't know it at the time. He took a gig subbing for a friend in a blues combo at Marla's Memory Lane supper club in Los Angeles. He continued playing that Monday night gig for two years, transforming himself in the process.
"That's where I got my indoctrination into the blues; that was my fresh start," he explains. Before then, Mo' was resistant to playing the blues. "Growing up in L.A., in the pop songwriter scene and trying to do sessions, it wasn't like I was going to get any traction playing the blues." Or so he thought.
"I began to look at my gifts as they were, instead of what I didn't have," he explains about the transition. He says he'd always been a pretty good songwriter, had pretty good vocals, could play guitar, and had a good rapport with the crowd.
"The next thing I needed was commitment," he says. "When I had commitment, that took me to another realm. I started getting a completely different reaction when I took inventory of myself and was willing to 'die' for my craft, so to speak."
Keb' Mo,' released in 1994, earned gold-record status. For his second Keb' Mo' album, Just Like You (1996), he earned a Grammy for Best Contemporary Blues Album, as he also did with Slow Down (1999), and Keep It Simple (2005).
Mo's blues infused, personal ballads come directly from his heart. "Songwriting has to be personal. I usually start with a thought," he explains. "For instance, the funny little [song] 'More for Your Money' is a chronological look at the world of retail. "As a kid, I remember walking home from school in California. If I had a nickel left I could get a candy bar … a whole Snickers for a nickel."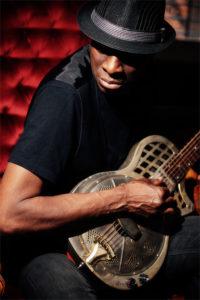 "It was the land of the brave, the home of the free, but some of our jobs shipped overseas;  … It was a high price to pay to get more for your money today," recites Mo'. "They opened up a store that took a whole city block, whatever you need you know they got. But it was a hard price to pay to get more for your money today."
That song is on his BluesAmericana album released last spring, which he sees as a signpost of artistic and personal growth. "I really shared deeply," he says, explaining how he expressed intimate feelings with a deeper understanding that comes from life experience. "It's a deeper place, and a deeper sense of what you have to dig into to get yourself to the next place in your life."
The album was nominated for the Best Americana Album Grammy, as well as Best Engineered Nonclassical Album, and its hit single "The Old Me Better" was nominated for Best American Roots Performance. Mo' has credits on the album for banjo, guitar (acoustic, electric, resonator, and slide), harmonica, horn arrangements, keyboards, organ, piano, and tambourine. Plus, he produced the album himself with co-producer Casey Wasner.
"I want to stay in until the job is done to my own satisfaction and producers are expensive. Maybe I don't have the budget for the producer that I would like to have, but I've got time on my hands, loads of time," he says. "Maybe a producer could get it quicker, or they could send me down a path I don't want to go. I have a clear path about what I like and what I think I am musically. I like to hold myself to the highest standard. I'm probably going to push myself further than a producer is ever going to push me."
The album took about three months to produce, not including the songwriting. Having his own studio allowed him another advantage. He could set up the room exactly as he wanted. "Are you into feng shui at all? I set it up energetically. I wanted something really cool to happen," he says.
The industry has changed a lot in the 20 years since his debut as Keb' Mo.' "You can't stay in the way of change," he concedes. "I've had to think differently and also pay attention to what is going on because it changes so fast. You really have to have one foot in the present and one foot in the future all the time."
One trend that Mo' is enthusiastic about is the resurgence in popularity of vinyl, something his audience seems to appreciate. He released a vinyl version of BluesAmericana this winter.
Aside from keeping up on all the changes, Mo' says it is important to him to stay focused on his personal "dharma." "I have to stay on the prime point of why I'm in the music business, which is to serve, to play music, to entertain, and to do my best as a person—to live my dharma and not do it for the sake of how many units I'm going to sell."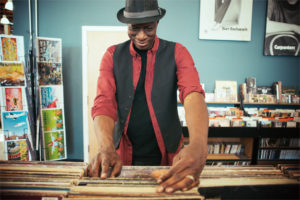 "It always puts me back to [ask myself], 'Why are you doing this? What if it all goes away? What if Spotify, CDs, vinyl, and everything goes away? What if the electricity goes away? What am I going to do then?' I'm going to get my acoustic guitar and a cup and I'm going to play … unplugged," he laughs.
One thing that Mo' is certain of, no matter how the industry changes: roots music, like the blues will never go away. That means a lot coming from a man who dismissed the blues early in his career. "If you are a young person and having fun musically, at some point you are going to hear the blues. You may hear it before you hear it, but at some point, you are going to hear it and go, 'Holy crap!'"
"Life is going to make you hear it. It might not be the blues, it might be old country, gospel, old folk music, but real music, real people," he adds. "The blues is folk music, folk music is where all the classics and these things come from."
"You can go and learn all your fancy scales and fancy chords and try to get the right beat and a hit record. It lasts for like two weeks and then you've got to get another one, but you can't … But then you go to the blues, something real," he says. "That's why Van Morrison and B.B. King [of Local 71 (Memphis, TN)] can still work right now. There are a lot of artists who make a fine living who never had a hit because they dug into something real."
The longtime union member, cites the AFM as an essential organization that has aided him in his career. "I was able to borrow money to get instruments, buy a car, and when I got poor, they worked with me to help me pay all my debts. And then there are all the 'little things'—the recording fund, pension, and there are all kinds of benefits. If you work hard the benefits of being a union member will pay off and it will be a big key in your future when you are older, plus there's the camaraderie," he explains.
He says union membership is not just about the benefits; it's also about the musicians decades ago who struggled to get fair pay and job protection for others. "You need to be a union member because the union is your heritage as a musician. People pay fair wages to musicians now because of the musicians union," he says.
Mo's advice to upcoming musicians, aside from union membership, is simple. "Don't follow in my path, make your own path," he says. "Be steady, learn all you can, learn to read, learn really good timing. Learn how to play a little bit when a little bit is needed and learn how to play a lot when a lot is needed. And always listen, listen, listen. Music is 90% listening and 10% playing."