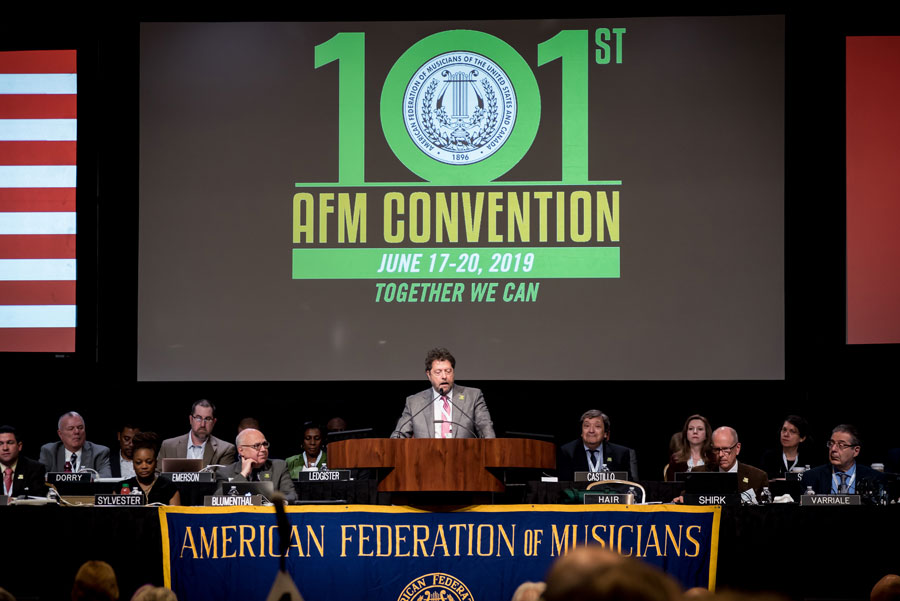 From June 16-20, the AFM 101st Convention took place at the Westgate Hotel in Las Vegas, Nevada. From pre-convention regional meetings to the swearing in of officers on the final day, the proceedings ran smoothly and were a demonstration of solidarity.
"We reclaimed, as we should at every convention, the meaning of unionism," President Ray Hair said in his concluding remarks on the convention's last day.
Among the many guest speakers this year were: SAG-AFTRA National Executive Director and Chief Negotiator David White, AFM & SAG-AFTRA Intellectual Property Rights Distribution Fund CEO Stefanie Taub, British Musician's Union General Secretary Horace Trubridge, Actors' Equity Association President Kate Shindle, Music Performance Trust Fund (MPTF) Trustee Dan Beck, International Federation of Musicians (FIM) General Secretary Benoit Machuel, International Federation of Musicians (FIM) President John F. Smith, SoundExchange CEO Michael Huppe, Sound Recording Special Payments Fund Administrator V. Robert DiPaola and Film Musicians Secondary Market Fund Executive Director Kim Roberts Hedgpeth.
The various conference and association representatives—Theater Musicians Association (TMA) President Anthony D'Amico, Organization of Canadian Symphony Musicians (OCSM) President Robert Fraser, Regional Orchestra Players Association (ROPA) President John Michael Smith, Recording Musicians Association (RMA) President Marc Sazer, and International Conference of Symphony and Opera Musicians (ICSOM) Chairperson Meredith Snow—addressed the delegates.
Among the topics discussed by delegates were recommendations and resolutions for proposed changes to AFM Bylaws to help the AFM better serve the needs of modern musicians. A total of 13 specially focused committees of delegates and AFM staff met to discuss and debate focused topics, concerns, and resolutions relating to law, finance, credentials, measures and benefits, organization and legislation, International Musician, public relations, TEMPO, small locals, election, good and welfare, diversity, and organizing.
Other convention highlights included presentations on successful organizing campaigns from members of the Dallas-Ft. Worth Symphony Orchestra and the Boise Philharmonic Orchestra, a presentation on the power of union influence in fighting for fair pay by guitarist Jim Suhler, and much discussion on the AFM Pension Fund. And, of course, there were four days filled with great music by Federation musicians.
The talk of the convention was the management lockout of Baltimore Symphony Orchestra (BSO) musicians, which occurred just days before the convention started. Delegates, locals, players associations, and regional symphony orchestras showed their support for their brothers and sisters in Baltimore by pledging nearly $100,000 in donations to the BSO musicians and to Baltimore Local 40-543.
A moving memorial service, held on the second day, honored AFM members and staff who have passed away since the last AFM Convention in 2016.
In the triennial Federation election, all of the international officers were reelected without opposition: President Ray Hair, Vice President Bruce Fife, Vice President from Canada Alan Willaert, and Secretary-Treasurer Jay Blumenthal. Joe Parente stepped down as an International Executive Board member and Ed Malaga, president of Local 161-710 (Washington, DC) was elected to Parente's seat.
Reelected to the International Executive Board were John Acosta (Local 47), Dave Pomeroy (Local 257), Tina Morrison (Local 105), and Tino Gagliardi (Local 802).
Look for detailed coverage on the AFM 101st Convention in the August International Musician.