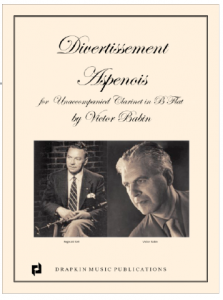 Pianist Victor Babin arranged and composed for various settings. His "Divertissement Aspenois," a virtuosic tribute to clarinetist Reginald Kell, may have been inspired by hearing Kell play Stravinsky's "Three Pieces at Aspen,"where they both performed. Babin, former director of the Aspen Music Festival and dean of the Cleveland Institute of Music, wrote this unaccompanied piece for clarinet for British soloist Reginald Kell.
Divertissement Aspenois (For Unaccompanied Clarinet in B Flat),
by Victor Babin, Drapkin Music Publications, www.bassclarinet.net.