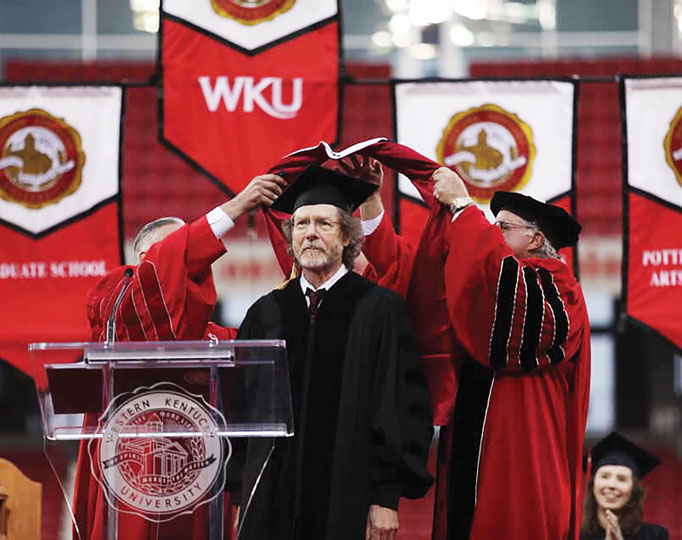 On Friday, May 10, Sam Bush of Local 257 (Nashville, TN), Grammy Award winner known for helping create the new grass sound, received an Honorary Doctorate of Fine Arts from Western Kentucky University.
Bush has been on the bluegrass scene for the past 50 years, playing with such musicians as Béla Fleck of Local 257 (Nashville, TN), Emmylou Harris of Local 161-710 (Washington, DC), Lyle Lovett of Local 257 (Nashville, TN),  and The New Grass Revival, as well as having a long and successful solo career. In 2009, the Americana Music Association awarded Bush the Lifetime Achievement Award for Instrumentalist.
President Timothy C. Caboni noted that Bush's 2016 album Storyman features the song "Bowling Green," co-written with John Randall Stewart, which describes growing up on a Warren County tobacco farm. "Sam Bush is a revered member of the bluegrass community who never forgot his Kentucky roots," Caboni says.
"Thank you Western Kentucky University for this great honor," says Bush. "It's a long way from a cattle and tobacco farm five miles outside town on Morgantown Road. … I just want to say thank you. What an honor. I never thought this would happen."