For Drummer Alex Acuña, His Storied Career Has Been a Mix of Talent and Opportunity
Some say the term "living legend" gets tossed around a little too often. But when you're the drummer of choice to lay down the beat behind household names for more than half a century, the title is not only accurate—it's earned. Alex Acuña of Local 47 (Los Angeles) has been the driving rhythmic force behind celebrated and diverse greats from Elvis Presley, Ella Fitzgerald, and Diana Ross, to the Gipsy Kings and Carlos Santana. In addition to live concerts and tours, he has worked extensively in recording studios, and on film and television. Along the way, Acuña has racked up several awards and garnered acclaim as one of the most accomplished, versatile, and affable musicians of his generation.
It's certainly a long road traveled for a boy from a small town near Lima, Peru. But for Acuña, the choice was easy growing up in a musical family. "All my older brothers were musicians. When it came time for me to play, the drums called." Still, Acuña recalls, he had to get the approval of his family. "I had watched their rehearsals and knew all the songs, but it was still the first—and only—time in my life I was auditioned to play," he laughs. "Afterwards, my mother came out of the kitchen and said, 'Now he's going to start working.' I was 10."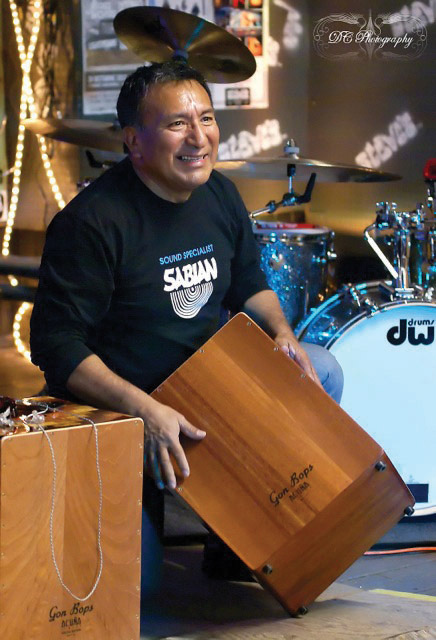 Acuña's first "official" gig was a street festival, one of those parties which typically went long into the night. "I played for two hours. Then I fell asleep behind the drums," he remembers. "I recognized then that this was a gift, and it was what I wanted to do with my life."
At 16, one of his brothers urged him to come to Lima because there weren't many musicians like him there. "I was already into listening and playing all kinds of music," he says. "We had a radio station that played a bit of everything. I loved it all, so I never put myself in a box with styles or expectations."
His first big break came with a TV spot at the age of 18, playing drums for Cuban Mambo king Perez Prado's tour stop in Lima. "Prado liked my playing and brought me to the US for a 10-month tour," Acuña says. Following his first American experience, Acuña wanted to retain his green card, so in 1967 he moved to Puerto Rico to gig and also study at the music conservatory. There, he came under the influence of the conservatory's director, the great Spanish cellist Pablo Casals. The young Alex had played a bit of trumpet, and also some piano, so he had learned to read music, which made him more adaptable. "Casals wanted me to have experience playing in a symphony orchestra," Acuña says. "It served me well much later when I got back to the US and started working on film scores."
But before the film scores came several years of work in Las Vegas, culminating in one of Acuña's proudest achievements: drumming on two acclaimed albums with the pioneering jazz group Weather Report between 1975 and 1977. "Those albums had so much impact and influence," he says. "I got to work with great musicians like Jaco Pastorius on bass and Wayne Shorter on sax. Looking back on those times, it's like the equivalent of playing with Michael Jordan in our field."
In LA, Acuña chalked up a list of session collaborators far too numerous to name, reading like a Who's Who of music. Film and television work also came his way. "I typically got called to play hand percussion because I can read it well," he says. He is particularly proud of a short moment in John Williams' soundtrack for the film Amistad, which called for six djembe players. "I had a good idea what to do, so I sorted it out between all of the percussionists on the session. The whole orchestra turned around, because they had never heard anything like it. It's a 10-second spot in the movie, but it opened a big door for me anytime they needed hand percussion."
The pandemic meant a cessation of work for many musicians, Acuña included—but just before, he took part in sessions for Mulan, and Steven Spielberg's upcoming film version of West Side Story.
One constant for Acuña since the early days has been union membership. "When I went to Lima, my mother told me to join the union," he recalls. "I've been a union member wherever I've landed, for 56 years." He also made it a point to go to meetings and get to know the union office staff. "It makes sense to know who's taking care of the situation in recording sessions."
Acuña, an avid teacher, also tells all his students to join, and why. "You can't just make music. You need to understand everything that happens and be current," he says. Acuña has also started getting an AFM pension. "And I'm still contributing to my pension because I'm still working. I have money coming every month, whether I'm working or not. That's what the union does. Young people need to hear that."
These days, Acuña maintains an easy blend of family, music, and spirituality. "I have a home studio and I'm up early every day practicing," he says. "I have a beautiful wife. She studied opera at Indiana University. We've been married 42 years, five kids, nine grandchildren. Everybody plays music. Even the dog sings." Martial arts also figures highly in Acuña's life, and he has been a practitioner since he was 20. "I train every day. Music, dance, and martial arts tie together," he says. "They're all about tempo, muscle memory, and movement."
Acuña is thankful for the life he has had. "The bit of education I had taught me to follow the musicians around me, but ears, eyes, and grooves—those three big elements—helped me make the most of my opportunities. I've been blessed to be in the right places at the times. But also to play the right way."
TOOLS OF THE TRADE
Alex Acuña is endorsed by:
‡ DW Drums
‡ Gon Bops Percussion
‡ Sabian cymbals
‡ Vic Firth drumsticks
‡ Evans drumheads
He also designed signature Vic Firth sticks and the caddy stick bag, and a signature line of instruments from Gon Bops Percussion.