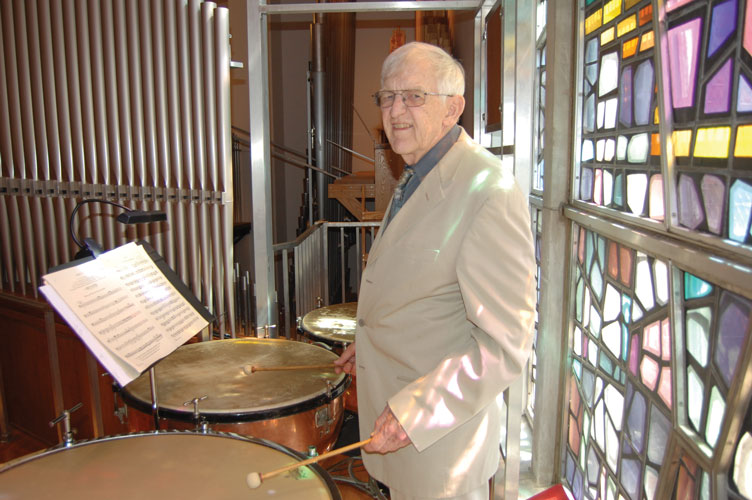 A Life Member of Local 161-710 (Washington, DC), Warren Howe has had a full career as a percussionist, historian, and educator. He is long retired from the US Military Academy Band (as musician, Sergeant First Class), a post he held 20 years, since 1983. But it's in retirement that he may be taking on his biggest challenge yet.
The West Point Band was an ideal gig for a percussionist and historian. "I started looking at the origins of the band, which has a fascinating history," Howe says. He began combing through documents housed in the Academy's library and in the National Archives and reviewed the Army Corp of Engineers' muster rolls and pay records. He dug deeper, accessing the Academy's Superintendent's Letter Books with handwritten directives and details of national events and performances by West Point musicians. After a few hundred pages and 300 footnotes, Howe realized he had the beginning of what could be the authoritative history of the West Point Band.
George Washington first ordered occupation of West Point by troops that included company fifers and drummers during the Revolution in 1778. While a full band was not formed until the War of 1812, Howe says, "As the academy evolved, so did its military band."
"What you're really doing is writing about the evolution of military music at West Point, from its tactical use during the Revolution with the use of company-level fifes and drums, to the formation of a highly skilled professional band that continues today." Howe explains that it's also about placing this musical history within the US Military Academy's development throughout the past two centuries, as well as documenting the impact of the US Army's 200-year influence on the Academy and its military music/Academy Band.
It's a massive undertaking, but one for which he is uniquely qualified. Only a trained historian can construct the intricate narrative of 200 years. "Writing history," Howe says, "is a kind of a science and an art." Tentatively titled The History of Military Music at West Point, he hopes to reach the 1970s by this summer.
When researching the book, Howe says, "It's fascinating because you can involve things like immigration to New York City in the 19thcentury. Many European musicians were coming to the United States, Germans and Italians, especially, getting away from the political disruptions going on in Europe. They came to New York City and formed neighborhoods to help each other. The Germans, for example, had a social organization in the city that included a subsection of musicians. They basically had a union, which kind of predated Local 802 [New York City]. Now, you're talking about the history of the union movement."
In 1989, Howe marched in the New York parade celebrating the bicentennial of Washington's first inauguration. It was a notably smaller event than the centennial parade of 1889. Back then, The New York Times reported 50,000 participants and a million spectators. Considered "the golden age of bands," the late 19th century was a time when great bandmasters were emerging, like Union Army Bandmaster Patrick Gilmore (lyricist for "When Johnny Comes Marching Home"). Another rising star was Director of the US Marine Band John Philip Sousa, who also composed its official march, "Sempre Fidelis."
Howe, who has earned two masters' degrees—one in percussion from the Manhattan School of Music and another in government from Maryland University's School of Government and Politics—also received a doctorate in education policy and administration from Fordham University. Early on, while a member of the West Point Band, he performed in orchestras and bands throughout the Hudson Valley and Connecticut. He also taught music and history at St. Thomas Aquinas College, Dominican College, and Mount St. Mary College. Before enlisting at West Point, Howe was on the faculty at Washington, DC's Duke Ellington School of the Arts.
Of his hometown of Washington, DC, he says it's a strong union city, where years ago membership was mandatory to play at the hotels. "The service staff union [Service Employees International Union] would back you up. Otherwise, you could easily get abused by contractors," he says.
At 77, Howe continues to teach on the faculty of Frederick Community College, as a professor of history and American government. When he's not working on his book, he also teaches percussion at a local parochial school in DC, where two of his percussion students are seventh grade girls—which used to be a rarity among the once male-dominated instrument. Howe says, "I showed them a video of Evelyn Glennie, the Scottish percussionist, a virtuoso who solos with major orchestras around the world—a phenomenal player. I showed them her playing the snare drum, stressing the fact that here's a woman who's a successful percussionist on an instrument that doesn't attract many women."
Howe's own teacher and principal influence was his father, a timpanist with the National Symphony. "I kind of grew up with drums all over the house," he says. "[My father] taught me how to play." During WWII, his father worked as a welder at the Navy weapons plant, and after that, Howe says, he began freelancing, playing with the National Gallery Orchestra and teaching in DC Public Schools. It was through his father that Howe heard of Fred Hinger, the renowned Metropolitan Opera Orchestra timpanist, with whom Howe would eventually study at the Manhattan School of Music.