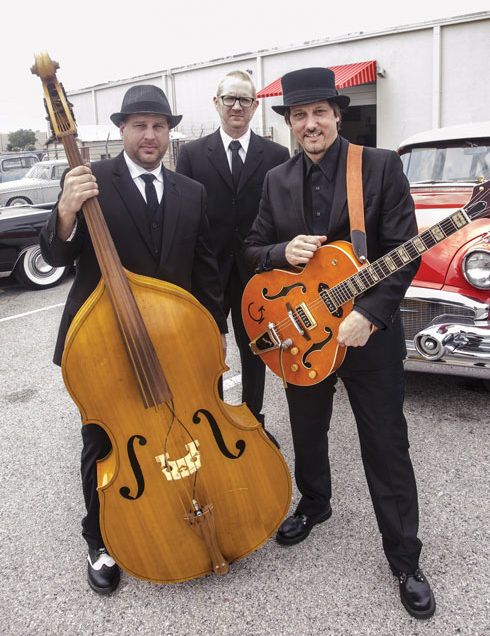 Guitarist and lead singer Steve Curry of Local 72-147 (Dallas-Fort Worth, TX) has been influenced by everybody from Stevie Ray Vaughan to Jimi Hendrix—blues, '50s rock 'n' roll, and Django Reinhardt and gypsy jazz. This confluence of genres has steered his career, in particular, the classic rock trio he formed a few years ago with veteran Texas musicians and union members Mark Baker (drums) and Greg New (bass). Their band, The Vinyl Stripes, pays homage to a time when turntables, not streaming services, ruled the airwaves.

"I like the sound from the '50s when people were just discovering the guitar sound that they call slap-back rockabilly—in Memphis, when Elvis, Johnny Cash, Carl Perkins, and Jerry Lee Lewis were popular, during the Sun Records era."

The trio's individual careers are a hybrid of styles. New started out in a punk band and after changing instruments, he cofounded a bluegrass/folk group, which eventually led to indie rock. Baker says his days as a rock drummer leaned loud and fast, adding "With the Vinyl Stripes, we try to pay homage to the tones and techniques of the music of the '50s and '60s, and then imagine the progression of those styles with our originals." Retro style drumming "is a combination of using the correct instruments to achieve the tones and an understanding of where the music came from to properly convey the feeling of the music."

The band chooses songs for their upbeat tempo: classic '50s with fun-based lyrics—songs like "Be-Bop-a-Lula" and "Whole Lotta Shakin' Goin' On." Every now and again a cover of Curry's favorite band will emerge, like The Beatles' "I've Just Seen a Face." Thanks to his prolific songwriting talent, there is no shortage of originals: a newly recorded dance tune "Jellyroll" and one of their most popular videos, "Lucy," is a salute to TV legend Lucille Ball.

Curry's song "Can't Go Home" has the feel of a 1955 Elvis record, with the guitar-playing attributes of Scotty Moore. Recently, he says, "I wrote about 16 original songs—some of which have rockabilly influence, some with more modern vocal harmony drawn from contemporary bands. I try to keep it grounded in early rockabilly sound, using similar chord progressions. Then, we also write music in the instrumental surf sound style of Dick Dale and The Beach Boys."

His tenor is suited to the sounds of Buddy Holly and Roy Orbison, two Texans who have influenced his music. "I am probably more influenced by rock and roll and some of the crooners that came before rock," says Curry. "The music coming out of Texas is pretty eclectic, though. Country music is big obviously, but there are a lot of rock bands, R&B, swing. I hear it all and it inspires me."

Like all things vintage, there is a reclaiming value to the band's music. Their garb is retro western plaid and bowling shirts, the stage is decked out in vintage guitars and an upright bass from the '70s, which New spins occasionally to great effect. Fun is the band's aim, Curry says, especially in response to today's polarized environment. To his surprise, a mixed-generation audience fills the venues they play. At one show, he says, "It was like being at a sock hop."

Born in Texas, just outside of Dallas, Curry moved to Los Angeles in the 1990s, where he played alternately in studio as a session guitarist and as a rock singer. He's composed music for and played for TV and film. He's toured and recorded with The Jacksons, Boney James of Local 47, Rapper D.O.C, and '50s icon Fabian.

In 1996, Curry joined the union. He says, "One of the most important things about it is that, if there's something in a contract that's disputed, the union has always helped me. If it ever has to go to court, they are there to deal with it. That makes it invaluable. If I'm in another city, if I have a question regarding a contract, or if I'm looking for players, I contact the local."

Back in Texas, in 2004, Curry's interest veered from mainstream pop and rock to very early jazz and jazz guitar styles. He bought a Gypsy jazz style (Selmer) guitar and eventually founded the swing band, the Texas Gypsies. The niche band, with a roaring '20s vibe, started out as a four-member acoustic gypsy jazz and western swing band—"Django Reinhardt meets Bob Wills." It's evolved and nowadays can include as many as 12 musicians, with Romani violin, horns, and retro-style drumming.

Both bands are going strong, says Curry. The Texas Gypsies have played more than 2,000 shows in the last decade, across the US, in Mexico, and even Dubai. The Vinyl Stripes closed out the summer with several concerts in Texas and throughout the region, in Oklahoma, Louisiana, and New Mexico.

Authenticity is all important to Curry. In fact, while we were talking, the doorbell rang with a delivery. It was a 1955 Gretsch guitar to be added to his collection of prized vintage instruments.