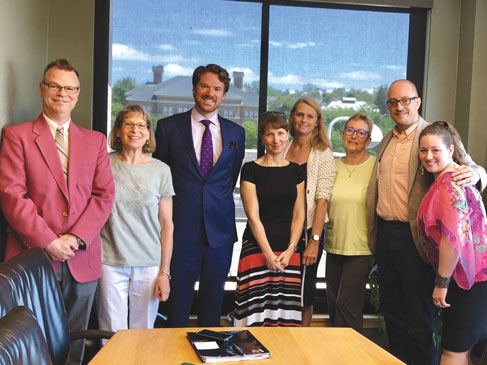 Musicians of the Vermont Symphony Orchestra (VSO) voted overwhelmingly to ratify an agreement negotiated by a dedicated orchestra committee, represented by Local 9-535 (Boston, MA) and VSO management.
This first VSO agreement was the result of an organizing process that included a National Labor Relations Board (NLRB) stipulated vote to recognize Local 9-535 as the bargaining representative, in cooperation with Local 171 (Springfield, MA), Greater Springfield, Berkshire County, and Vermont Musicians.

"We are pleased with the cooperation between Locals 9-535 and 171 and thank Local 171 President Richard Melikian and Local 9-535 President Pat Hollenbeck. Our work could be a model for other regional orchestras around the country that have not yet found a way to organize. All professional musicians should have the benefit of the kind of productive negotiations we shared with the VSO," says Local 9-535 Vice President and Lead Negotiator Bob Couture.

"Local 171 was pleased to have been part of what I believe was perhaps the 'first of a kind' organizing effort between AFM locals in different jurisdictions representing the musicians of the Vermont Symphony Orchestra," says Melikian. "We are confident that the cooperation in finalizing the agreement will greatly benefit the orchestra musicians and VSO."

VSO's home base is Burlington, Vermont, on the picturesque banks of Lake Champlain, but its mission is to provide music to every corner of the state. It plays in concert halls, fields in small rural towns, as well as at Ben and Jerry's Concerts on the Green in Burlington. With a strong statewide commitment to music education, VSO provides outreach to 20,000 Vermont students each year through its SymphonyKids program.

"The VSO was my first professional contract, and it's been my privilege to play music with great friends in one of the most beautiful places in the world," says VSO Organizing Co-Chair Gabe Langfur. "I am thrilled to see this commitment to institutional growth from all parties—musicians, management, and the VSO Board—through affiliation with the AFM."

Though negotiations were complicated, as first contracts normally are, and took six months to complete, they were collaborative in every respect. The Organizing/Negotiating Committee was chaired by Nancy Dimock (VSO principal oboe) of Locals 9-535, 171, and 443 (Oneonta, NY) and included Shelagh Abate (principal horn) of Local 802 (New York City); Mark Emery (principal trumpet) of Local 9-535; Anne Janson (second flute) of Local 171; Hilary Hatch (violin) of Local 171; and Langfur (bass trombone) of Locals 9-535, 400 (Hartford-New Haven, CT), and 198-457 (Providence, RI).

"Unionization has been a topic of conversation for years but wasn't under serious consideration until recently," explains Hollenbeck. "The path to joining the AFM became clear with new management in place. VSO Executive Director Ben Cadwallader and Orchestra Manager Eleanor Long became active participants in making this a reality."

"This [agreement] is wonderful news for everyone at the VSO," says Cadwallader. "When I shared this with our executive committee there were high-fives all around. I echo Bob's kind sentiments about the personnel and process. When we began, I was 'warned' by many from within our industry and the private sector that union negotiations would be arduous, contentious, and divisive, yet nothing could be further from the truth. Even when we disagreed, I was consistently inspired by the pervasive kindness, optimism, and professionalism from everyone involved (in particular, from Bob and the musicians committee)."

"This process and the resulting contract have strengthened the VSO for decades to come, and I look forward to loudly offering a strong counter-argument next time I hear colleagues try to 'warn' anyone about negotiations and unionizing," adds Cadwallader. "I look forward to our continued work together over the many years to come."

With this agreement, the VSO, founded in 1934, becomes the newest AFM orchestra. Roster members will enjoy tenured status with solid job security—including peer review appeals as part of a nonrenewal process. There will be meaningful agency for the audition committee in the audition process. A substitution policy will allow greater flexibility for members who are cobbling together complicated professional schedules. The VSO musicians will have sick pay and other personal leave advantages. There will be new section and assistant principal positions and all the musicians who perform with VSO will see significant wage increases.

"It was wonderful to be a part of a negotiation where we were able to discuss issues and find ways to move forward together," says Dimock. "The musicians will benefit from a comprehensive contract, and we will ultimately have a stronger organization that will benefit the players, management, and community."

Emery adds, "Players, management, and the AFM demonstrated care and concern for one another throughout."

"I have had experience in first contract negotiations between nurses and their medical center, and it amazed me that this negotiation bore no resemblance to that prior adversarial and rancorous proceeding," says Hatch. "It was clear from the start that VSO musicians and VSO management wanted to work together to produce a sound, fair contract. The VSO is a remarkable orchestra, and it was wonderful to see that harmony prevailed even in contract negotiations."

Everyone agreed that it was AFM organizing and spirit of unity that brought the negotiation to a successful agreement to the benefit of all parties.