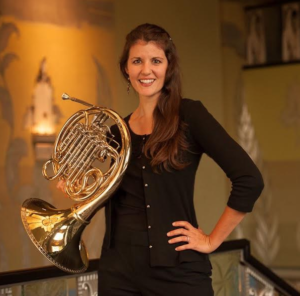 AFM Local 105 (Spokane, WA) member Kristin Joham has been awarded a $1,000 Union Plus scholarship. Joham, who has been a member of the Spokane Symphony Orchestra and adjunct professor at Eastern Washington University since 2008, plans to study speech and hearing sciences. She completed Washington State University's post-baccalaureate program in 2016. She plans to attend graduate school this fall and hopes to use her musical background and speech therapy training to create a multifaceted team approach for patients with neurogenic communication and motor speech disorders.
Joham holds bachelor's and master's degrees in music performance from Cincinnati College Conservatory of Music where she was in the Honors Scholars Program. She grew up in Berkeley Heights, New Jersey, where her grandparents were very active in the National Education Association. "I was born into a union household, and my opinion of the importance of public education and teachers' rights is still strong in me today," she says. "Now as an AFM member, I am constantly reminded of the need and power of a union to fight for workers' rights."
In its 26th year, the Union Plus Scholarship Program awarded $150,000 in scholarships to 106 students representing 31 unions, in 2017. Recipients included university, college, and trade or technical school students in 35 states. The program, offered through the Union Plus Education Foundation, awards its scholarships based on outstanding academic achievement, personal character, financial need, and commitment to the values of organized labor.
Visit unionplus.org/scholarship for details and to apply.