by Nicole Bogatz, Assistant to the Trustee of Local 433 (Austin, TX)
My colleague, fellow Local 433 (Austin, TX) member Aaron Lack and I hopped on a plane to Washington, DC, at the beginning of December. We were headed to American Federation of Musicians Leadership Training. The AFM hosted the three days of training with leaders from the AFL-CIO Organizing Institute at the Tommy Douglas Conference Center in Silver Spring, Maryland. We knew that these intensive sessions would be beneficial to the Austin Federation of Musicians (Local 433), our membership, and the Austin community.
Organizing, Transactional, Transformational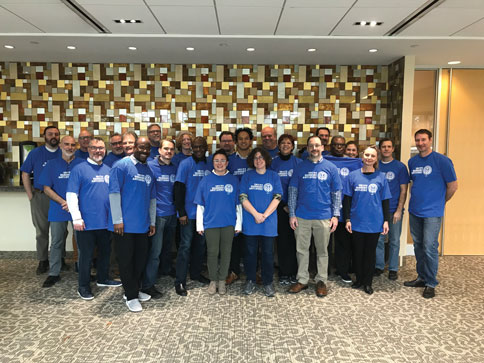 The words of the week were: organizing, transactional, and transformational. These words were daunting the first day. Organizing is arranging into a structured whole. Transactional is when leaders are aware of the link between the effort and the reward. Transactions are activities leaders must do to get them checked off a list. Transformational activities cause changes in individuals and systems. When leaders inspire emotions in their members, they motivate the membership to act beyond the framework of transactional necessities. Every local must complete transactional duties to keep the office running, but providing the transformational experiences within its membership sets the groundwork for effective organizing.
The training tempo was brisk due to the variety of learning activities provided. Local leaders formed new groups or partnered for each training exercise. This allowed us to work with other AFM leaders that we might not typically have the opportunity to work with. Group and partner work enabled networking and the exchange of experiences between all of us. Role playing skits gave each of us a laugh, but provided a safe practice space before heading home.
Bringing It All Together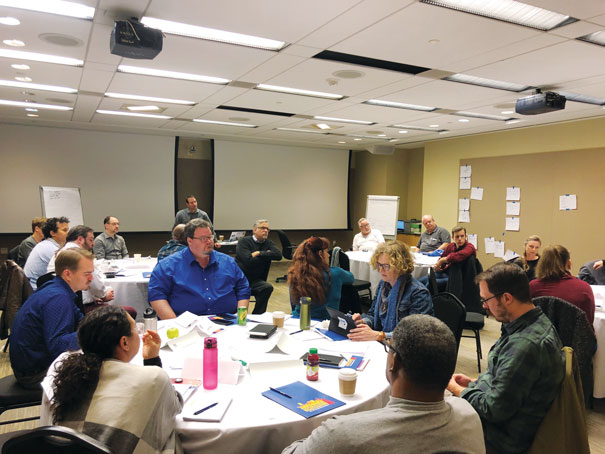 The "Organizing Conversation" handout that I have deemed "my new best friend" really brought the meaning of the word organizing into focus. Everything we had been learning during training started to click.
On the last day, we watched the video 1,000 People in the Street: 5th Ave. Musicians Strike, featuring Local 76-493 (Seattle, WA). This provided a real-life example of how transformational activities support organizing and how organizing can change a mindset, and in turn, create results. All of these training activities helped me. At first, I felt a little overwhelmed by the loaded word "organizing." By the end of the training, the words that once terrified me were now powerful tools for my jurisdiction.
By the end of the training, I had three main takeaways: 1) Organizing is the key to any local's success for its members and community; 2) We as the local leaders must first help to internally organize, if we want to make future changes to our community and beyond; 3) Don't "third-party" the union; we are all the union, an organized group of musicians and music industry professionals who stand together, united for the greater good of the industry and of our craft.
Invaluable Training Sessions
Local 257 (Nashville, TN) Secretary-Treasurer Vince Santoro had the best quote: "'Right to work' is a label for a mindset." Let that sink in, repeat it to yourself, and don't let it deter you from your goals. Any local, big or small, can always make an impact and bring change to its community.
The AFM & AFL-CIO Leadership Program is a valuable training session. Not only did I access a wealth of information and ideas to bring back to my local, but I feel more confident in my ability to assist our members in any campaign they would like to start. I also feel ready to take on any collective bargaining negotiations that may arise in our jurisdiction.
I would like to thank AFM Organizing and Education Director Michael Manley, Lead Organizer Alex Tindal Wiesendanger, Symphonic Services Division Negotiator/Organizer/Educator Todd Jelen, Vice President and Local 99 (Portland, OR) President Bruce Fife, as well as AFL-CIO Organizers T. J. Marsallo and Patrick Scott, for their hard work putting this training together. There was a lot of information to put into just three days of training, but you all pulled it off. To my fellow attendees, it was great seeing familiar faces and meeting new ones. It's time to get organized!