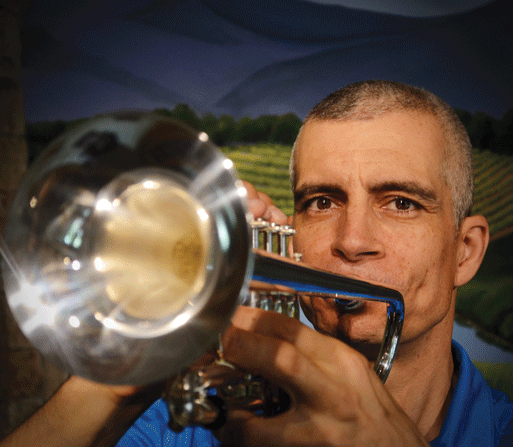 In Orlando, beyond the popular theme park attractions, a vibrant arts scene has been quietly gaining traction. For the last 18 years, Benoit Glazer of Local 389 (Orlando, FL) and his wife Elaine Corriveau have run the Timucua Arts Foundation—until recently, a self-funded nonprofit that began in their living room. For the Montréal-born Glazer, a trumpet player, composer, and conductor, it was a natural synthesis of art and life.
After the couple relocated to Florida, Glazer says it was not easy to find live music that matched the musical offerings of Montréal. So, in 2000 they began hosting concerts out of their home for small groups of 20-25 people. It quickly turned into a monthly, then weekly event. "Basically, we started this in a normal suburban home. Then, after a year or two, the living room became too small. So I tore down a wall and another wall and then, eventually, there were no more walls to tear down."
In 2004, after a night of Brazilian music attended by seemingly much of Central Florida's large Brazilian population, it became clear the venue needed to expand. Glazer says, "They all came! The house was overflowing. Parking was an issue. So, I said to my wife, well, we can slow down or find another place and build a house that would be more suitable for these kinds of events."
He explains, they could have retired comfortably on savings and the pension he had earned working under union contracts or invest it all in bringing music to the community. "We looked at each other—my wife, to her credit, she's been a strong supporter of the project from the beginning—and she said, 'No, let's go for it. I don't want to die rich. I want to live rich.'"
Glazer and Corriveau poured their life savings into a new 5,000-square-foot home with a built-in concert hall, which accommodates a hundred guests. It's now the official residence of the Timucua Arts Foundation. The name honors the Native American Timucua—the neighborhood's original inhabitants.
The Foundation is in the midst of transition and becoming community funded. In the last decade, the concert season has swelled to more than 90 events a year. The Sunday schedule varies—classical, jazz, Latin, folk, and world music. The fourth week is alternative, featuring literary events, poetry, theater, and film. Three or four nights a month, they offer master series and a Saturday afternoon series for families. "We are trying to make it easier for everyone to go out and see good art," says Glazer.
Both Opera Orlando and the Atlantic Center for the Arts conduct outreach events there. Glazer, who plays for several local orchestras, says his tuba concerto will premiere next month. In the arts community, he says, "We all try to get inspiration and energy from one another. The more art available to the community, the more the community will go to arts events." Glazer says, "It's about flooding the community with art so the world will know that Orlando is full of art and music, theater, and film."
Glazer came from a musical family outside of Montréal. His father, Jean-Marie, and grandmother, Philomène, were accomplished fiddlers. Glazer was 12 years old when he began taking theory lessons from a jazz guitarist. "I'm thankful that I was exposed to music theory from the viewpoint of a jazz guitarist because they have a unique way to look at harmony and voicings."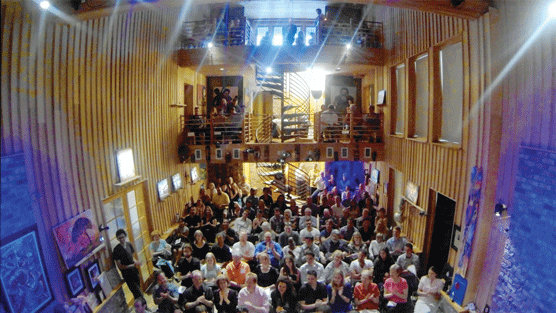 Glazer played drums, saxophone, and clarinet in high school. For a time he considered becoming a physicist, but changed his mind at the last minute. The trumpet was one of the few instruments he had not yet learned. Undaunted, he practiced for six weeks, passing the college audition. In the summer, he immersed himself in the rigorous training of Drum Corps International (DCI), and for three years was a conductor.
Throughout a busy academic career, he played in big bands about 40 hours a week, sometimes in 13 different bands at other universities and professional bands. He says, "Anything I could find."
His ingenuity served him well. At 21 years old, he was already teaching jazz studies at McGill, a position he held for a decade. "Throughout the '80s and '90s, I was touring Europe with fusion bands during school breaks," he says.
The variety of musicians that Timucua draws is impressive, a function of Glazer and Corriveau's instinct for pairing composers and artists. It explains why they host so many world premieres.
The foundation has hosted Nestor Torres, the virtuoso flute player and Latin Grammy winner; Muriel Anderson of Local 257 (Nashville, TN), the world-class finger-picking guitarist (who played harp guitar); Polish pianist Adam Golka; and Taiwanese-born pianist Jenny Lin. Glazer says, "We try to have a good balance of local talent—because Orlando is replete with great musicians—and internationally recognized musicians," says Glazer.
From the outset, any advertising for events was word of mouth. "Musicians come to us," says Glazer, who books 18 months ahead and has a waiting list of 60 or 70 groups. In addition to a high-quality back line, including an upright bass once played in the Sam Rivers trio, the venue houses a recording and broadcast studio.
Local 389 Secretary Treasurer Sam Zambito says, "[Timucua] is a gift to our local community, which gives residents an opportunity to hear our most talented artists in a noncommercial setting playing music for the sake of art!"
Glazer adds, "We've been working closely with the union for a long time. We're planning on producing a radio show and even a TV show, which would be covered with a joint venture agreement."
"My job at the foundation is to make the experience magical for the musicians and artists, while my wife and her team make it special for the audience. This intimate setting redefines the equilibrium between performers and audience," he says. With its bold vision and dedicated audience, Timucua (timucua.com) is fast becoming a music destination along the Southeast corridor. As Glazer says, "Everybody who comes once wants to come back."