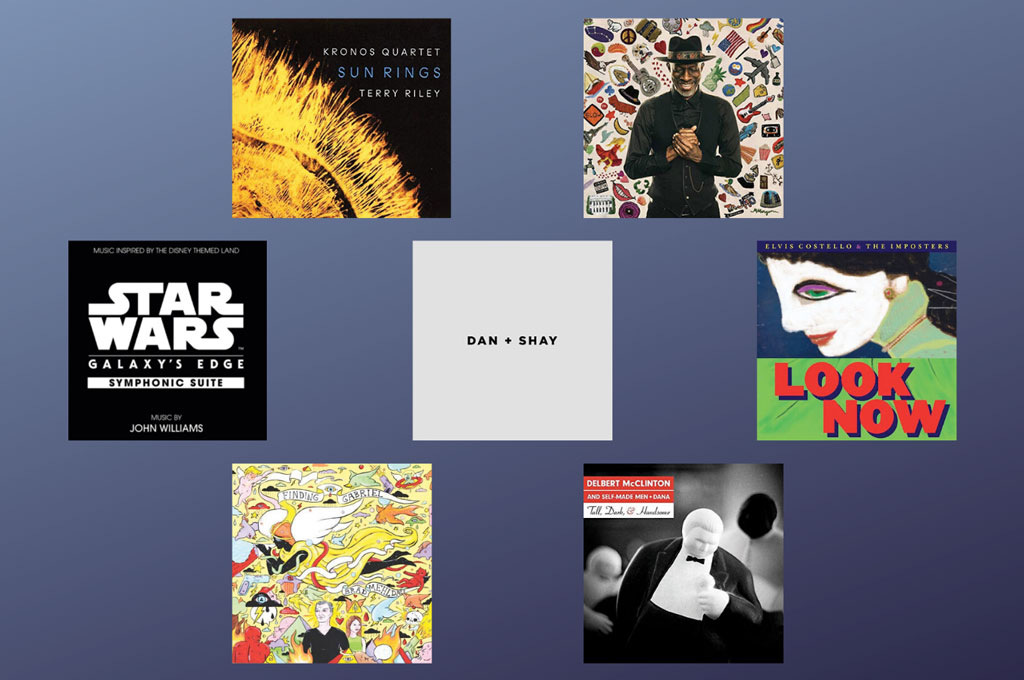 Congratulations to all AFM musicians whose AFM signatory recordings won Grammys!
The benefits of protecting your recording under AFM agreements are undeniable and essential. For more information, contact the AFM Electronic Media Services Division:
For US projects, contact EMSD Director Pat Varriale: 212-869-1330 ext. 234, pvarriale@afm.org.
For Canadian projects, contact Electronic Media Supervisor Daniel Calabrese: 1-800-463-6333 ext. 224, dcalabrese@afm.org.
For projects involving symphony, opera, ballet, or chamber orchestras with collective bargaining agreements, contact AFM Director of Symphonic Electronic Media Debbie Newmark: 212-869-1330 ext. 225, dnewmark@afm.org.
Best Traditional Pop Vocal Album
Look Now—Elvis Costello & The Imposters
Elvis Costello a/k/a Declan MacManus of Local 802 (New York City), Davey Faragher and Pete Thomas, both Local 47 (Los Angeles, CA)
Best Country Duo/Group Performance
"Speechless," from the album Dan + Shay—Dan Smyers and Shay Mooney, both members of Local 257 (Nashville, TN)
Best Jazz Instrumental Album
Finding Gabriel—Brad Mehldau of Local 47 (Los Angeles, CA)
Best American Roots Song
"Call My Name," from the album Call My Name (acoustic)—Sarah Jarosz of Local 257 (Nashville, TN) and Sara Watkins of Local 47 (Los Angeles, CA)
Best American Album
Oklahoma—Keb' Mo' of Local 47 (Los Angeles, CA)
Best Traditional Blues Album
Tall, Dark & Handsome—Delbert McClinton and Self-Made Men + Dana,
Delbert McClinton, Bob Britt, Dennis Wage, James Pennebaker, Kevin McKendree, and Mike Joyce, all of Local 257 (Nashville, TN) and Jack Bruno of Local 47 (Los Angeles, CA)
Best Instrumental Composition
Star Wars: Galaxy's Edge Symphonic Suite—John Williams, of Local 9-535 (Boston, MA) and Local 47 (Los Angeles, CA)
Producer of the Year (Non-Classical)
Finneas O'Connell of Local 47 (Los Angeles, CA)
Best Orchestral Performance
Andrew Norman, Sustain—Los Angeles Philharmonic, members of Local 47 (Los Angeles, CA)
Best Engineered Album
Terry Riley and Kronos Quartet, Sun Rings
David Harrington of Local 76-493 (Seattle, WA), John Sherba of Local 10-208 (Chicago, IL), Hank Dutt of Local 3 (Indianapolis, IN), and Sunny Yang of Local 6 (San Francisco, CA)
Best Opera Recording
Tobias Picker: Fantastic Mr. Fox
Boston Modern Orchestra Project, members of Local 9-535 (Boston, MA)
Best Chamber Music Performance
Caroline Shaw: Orange
Caroline Shaw, composer, of Local 802 (New York City)
Best Classical Instrumental Solo
Wynton Marsalis: Violin Concerto; Fiddle Dance Suite
Wynton Marsalis, composer, of Local 802 (New York City)
Philadelphia Orchestra, members of Local 77 (Philadelphia, PA)
Best Contemporary Classical Composition
Jennifer Higdon: Harp Concerto
Yolanda Kondonassis, solo harpist, of Local 802 (New York City);
Rochester Philharmonic Orchestra, members of Local 66 (Rochester, NY)