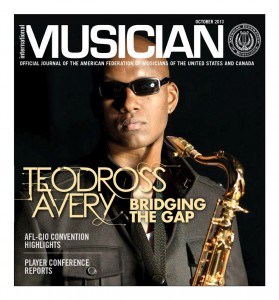 Student of Saxophone
Saxophonist Teodross Avery got a jump on his career, scoring a record deal in college. Then came opportunities to work with everyone from Aretha Franklin to Tommy Flanagan, and even Matchbox Twenty. Today, he can be found on the University of Southern California (USC) campus where he is teaching and working on a doctorate. The Local 47 (Los Angeles, CA) member shares his philosophies on jazz, saxophone, and life.
Avery credits his father for the gift of music. "My father loves music and has an extensive vinyl collection," says Avery, who listened to everything from soul to rock to jazz growing up in Northern California. "He always wanted to give me music because he thought, no matter what kind of sorrow or loss I might experience, music would be there to comfort me. He pushed me to get lessons on guitar."
Avery switched to saxophone after hearing John Coltrane's Giant Steps as a teen. "It just blew my mind. What he was saying musically spoke to me: the high level of sound through his instrument and the complexity of it. On an emotional level, there was such a level of urgency in his music. It pulled me right in," he says.
From then on, sax was his instrument and jazz was his genre. He would play every chance he got, and when he wasn't playing, he listened, going to hear all the jazzers as they passed through town.
And he always brought his saxophone, just in case. "My dad always told me to bring my horn along and ask if I could play with them," recalls Avery. "I got to sit in with some incredible musicians—Art Blakey, Elvin Jones, and Freddie Hubbard." He frequently asked famous sax players to write out licks for him.
"Those moments I learned a lot," says Avery, and it wasn't just the music. "They passed on something through the music, a spiritual connection between life and music; I'm so happy that I got to receive it, even for a short time."
The precocious kid even managed to get a new saxophone from Local 802 (New York City) member Wynton Marsalis. "I read that he would purchase instruments for deserving students. I wanted to sit in with him, but I also needed a new horn, so I asked his manager and they arranged it," he recalls. "To this day, I'm extremely thankful, not only because they bought it for me, but because they made a connection with a young kid who wanted to play music and better himself."
"The best advice I ever got was from a bass player who played with Pharoah Sanders. He told me to practice eight hours a day," recalls Avery, who was about 15 at the time. "That summer I practiced six to eight hours a day and really connected with the instrument."
"It shaped my thinking, regimented my musical schedule, and made me think about notes and math as it relates to music," he says. "It pushed me to think about interpolations, and then transfer that to other parts of my life. It made me think about music in a deep, deep way that will forever influence me."
Avery was awarded a full scholarship for Berklee College of Music. And although he got a record deal and released the album Other Words at age 19 (1994), he continued studying. His decision to stay in school was partly due to his parents who were adamant that he complete a degree, as well as other musicians who told him he should keep studying.
"There were moments when I thought about leaving," says Avery, who recalls advice he received from sax player Antonio Hart, who was on the road with Roy Hargrove during his college time. "He told me how he did it. So I stuck with the plan, and whenever I'd go on tour, I'd bring the homework and do it on the plane or in the hotel room."
Educated from school and the music scene, simultaneously, Avery appreciates the value of each. "What you get from college is clear music theories, or clear ways to approach music in a regimented form. Information is spread over 15 weeks, so you gradually learn it," he says. "Being on the music scene has its pluses too; you are able to get a deeper level of study in an area. And learning how to bob and weave socially, you are not going to learn that in school."
After graduating Berklee in 1995, Avery jumped
head first into the New York City music scene. He eventually went on to get his master's degree in music from Steinhardt School of Education at New York University, and released four more albums, each demonstrating a distinct evolution in his music.
"Those albums represent what I was seeing around me socially," he explains. "As an artist, you have your set of objectives and society's set of objectives. You could tell your story, but if you wanted, you could tell the story of yourself as it relates to society."
"The first album was a hard-core young man's perspective," he says, explaining that up until that point he was totally jazz-focused, and not interested in contemporary music at all. "After, I was able to travel and go outside my comfort zone, hearing different groups, I started to be aware of what was going on around me musically. I had reconnected with contemporary society, so my jazz started to change." My Generation [1996] is a result of these brand new influences.
He slowly became totally immersed in life as a New York musician. "At the time that New Day, New Groove came out [2001] I was checking out a lot of different cafés in New York. I wanted to keep putting out music, but I was no longer with the label," he says, adding that the album was put together through "a hard core bartering process."
In 2006 his sound changed when he began using Cannonball saxes, which have larger bells and tone holes to accommodate a larger spectrum of sound. "I could play very loud or very soft and I didn't have any resistance from the horn. Those horns reinvigorated me as a saxophone player," he says.
Bridging the Gap [2008] was his first self-produced album. "I did that album after having a lot of hip-hop sessions and live shows with artists in New York. I pretty much programed the whole album from beginning to end; I was making my own sounds and mixing."
The title of Avery's 2009 album, Diva's Choice, comes from the fact that, around that period of time, he performed with a lot of different female artists. "I recorded and produced a song with Amy Winehouse on her first album, I played with Lauryn Hill, Shakira, Leela James, Joss Stone—outstanding women and outstanding performers," he says.
Throughout these many projects, Avery has remained a member of the AFM, first joining Local 802 (New York City). "I needed a legal body to speak on my behalf," he says. "The union makes sure musicians are protected."
Now, at 40, after having recorded or played with a huge range of artists, appearing in two films, and on numerous television shows, Avery has returned to school.
"I'm very happy about where I am right now," he says. "I didn't want to be a freelance musician in New York anymore, so I left. I got some great experiences, I played with some great artists. I have no regrets. What I gained is more of my ethos on life: do what you do best, let people know about it, and keep on creating and being productive."
He says there are two reasons why he decided to come to USC to teach and work on his doctorate. "I played so much jazz and contemporary music that I was never really challenged to perform or write classical music, so I felt like I wanted to bridge the two together. Also, I get to study jazz and learn from people—Bob Mintzer is here and so is Alan Pasqua. I'm getting their perspective on music as well."
"The point is to add it all together, and over time you have experience to deliver a broader perspective and different angles as a teacher," he says, something he has become passionate about. He even teaches remotely through Skype, arranging lessons through his website (teodrossavery.com).
"I enjoy teaching, but I also enjoy learning," says Avery of his education-focused life. "I enjoy the process of learning, walking into new situations that I didn't understand before and walking away feeling, 'Wow, I was humbled by something; now I can think about life in this other way.'"
"I'd like to continue to teach and start a music education nonprofit relating to discipline and how to approach music from a philosophical perspective, as well as a musical perspective," he explains, reflecting on what music has meant to him in his life. "Music is just one part of a larger perspective of life and I'd like to make that a little more clear."
As for his ethos to "keep on creating," Avery has two albums in the works that once again explore extremes. One is an acoustic jazz album of popular songs, which is recorded and just needs to be edited and mixed. "I was purposely trying to make the point that you can make jazz more palatable for the general public," he says.
He's currently writing songs for a disparate album. "It's going to be a hard core jazz album—compositionally complex, artistic jazz without regards to what somebody might want to hear," he says. "I haven't done that since my first album."