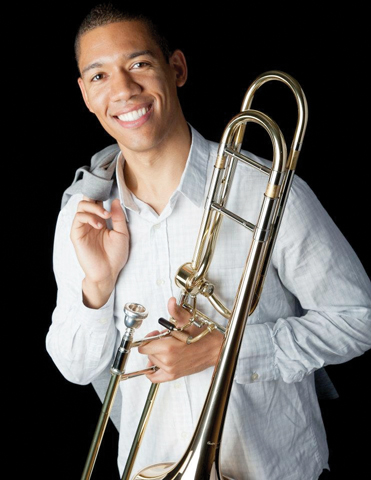 Trombonist Weston Sprott, of Local 802 (New York City), has been named a recipient of the prestigious Sphinx Medal of Excellence, and will be honored for the achievement at a black-tie private dinner in March 2020 in Washington, D.C.
The Sphinx Medal of Excellence is the highest honor bestowed by the Sphinx Organization, recognizing extraordinary classical musicians of color. Along with a $50,000 career grant, Sphinx annually awards the Medals of Excellence to three artists who, early in their career, demonstrate artistic excellence, outstanding work ethic, a spirit of determination, and an ongoing commitment to leadership and their communities.
Sprott enjoys a career that includes orchestral, chamber, and solo performances, as well as numerous educational and outreach efforts. He is dean of the Preparatory Division at The Juilliard School and a trombonist in the Metropolitan Opera Orchestra. He has performed frequently with the Philadelphia Orchestra, the Zurich Opera/Philharmonia, and numerous other major orchestras. In addition to his faculty positions at Juilliard Pre-College and Bard College, Sprott previously led the brass department at Mannes School of Music and held faculty positions at Rutgers University, Purchase College, and Juilliard's Music Advancement Program.
Sprott is an active speaker, writer, and advisor for diversity and inclusion efforts in classical music. He is the recipient of the Atlanta Symphony Talent Development Program's Aspire Award and board chair of the Friends of the Stellenbosch International Chamber Music Festival.
For more information on Sprott's career, see the IM cover story from July 2016.