The Music Performance Trust Fund (MPTF) co-sponsors hundreds of free live events annually that enrich communities across North America with the talents of inspiring professional musicians. Here we shine the light on one of our outstanding partners: Symphonic Jazz Orchestra (SJO).
SJO is a nonprofit organization based in Los Angeles and dedicated to symphonic jazz—the blending of the American language of jazz with European orchestral traditions. Its mission is to commission and perform new symphonic jazz works, and inspire and educate through its Music in the Schools residencies.
May 7, the SJO celebrates its 15th anniversary with a concert at Long Beach Carpenter Performing Arts Center as part of their Arts for Life concert series. The event will feature two world premieres—Local 47 (Los Angeles, CA) member Alan Chan's "Denali World" and Local 47 member Gordon Goodwin's "Fantasia," featuring saxophone soloist Eric Marienthal, also a member of Local 47.
Founded in 2002 by Music Director Mitch Glickman, the 67-member hybrid jazz/classical ensemble comprises Local 47 musicians and is a fusion of a symphony orchestra and a big band. The SJO has commissioned 10 new works and performed 25 world premieres at Southern California concerts. The orchestra has been joined by some of the world's leading jazz soloists including George Duke, and Local 47 members Dave Grusin, Lee Ritenour, Ernie Watts, and The Yellowjackets. Composer and keyboardist Duke also served as the orchestra's co-music director from 2004 to his passing in 2013.
In 2015, the SJO released its debut recording featuring two of its commissioned works, along with the piece that began the symphonic jazz genre, Gershwin's "Rhapsody in Blue." The CD includes Ritenour's "Symphonic Captain's Journey" featuring guitarist Ritenour along with pianist Dave Grusin as soloists. Pianist and Local 47 member Bill Cunliffe is featured in "Rhapsody in Blue," supported by drummer Peter Erskine of Local 47.
To honor George Duke, the SJO, along with support from the ASCAP Foundation created the George Duke Commissioning Competition in 2015. The national competition selects a composer to create a new symphonic jazz work for the orchestra to be performed in concert.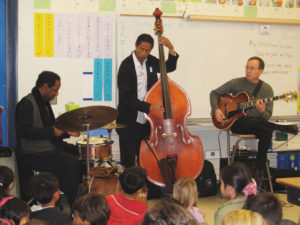 From its first concert in 2002, the SJO has presented free concerts in such venues as the Carpenter Performing Arts Center in Long Beach, Royce Hall in Los Angeles, Walt Disney Theater at CalArts, and the Ford Amphitheatre in Hollywood. Throughout the SJO's history, the MPTF has been a vital supporter of these concerts that serve students, families, and community members. For most of the audiences, these concerts marked their first jazz or orchestral experience.
In 2008, the SJO piloted a Music in the Schools residency in four classrooms. Today, the program is in 172 classrooms across 12 schools and four school districts in Los Angeles County, serving almost 4,000 students every week. The yearlong residencies for kindergarten through 5th grade students includes "Bach to Bebop," where students compose and perform their own blues songs, "Families of the Orchestra" workshops, "Music of the World," and "Playing the Bells."