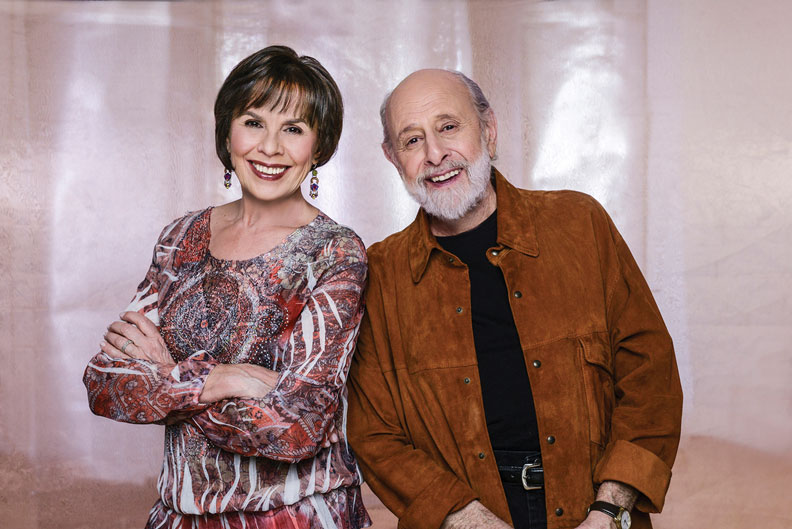 Local 149 (Toronto, ON) members and children's music duo Sharon Hampson and Bram Morrison will take to the road one last time before officially retiring from touring in 2019. As a trio, Sharon, Lois & Bram (with the late musician Lois Lilienstein) was celebrated family entertainment across North America since 1978. They produced numerous recordings, songbooks, six national TV specials, and the long-running The Elephant Show and Skinnamarink children's television shows.
The pair will not bow out completely. They are working on new recordings and a Skinnamarink book is scheduled for release next fall. A sold-out September 2018 benefit concert brought them back to Toronto's Young People's Theatre, where they performed their first show 40 years ago.
"We ended up doing seven shows there," says Hampson, adding, "It was a grand way for us to kind of kick off this last go-around. To perform there with the Toronto Symphony Orchestra was beyond thrilling."
Having joined the union in 1951, Hampson is a lifetime member. She says, "They protected us. We worked really hard, but our union looked after us to make sure that we weren't taken advantage of, that we were paid appropriately. I also come from a union family, so I grew up singing 'There once was a union maid.' So, unions are in my bones and I believe in the value of them." Morrison, also a lifetime member, adds, "It's been an absolute necessity."
The duo has been releasing some of her late husband Joe Hampson's songs. He was a member of the Canadian band the Travellers and penned 1960s songs, including the anti-war song, "Talk About Peace." Sharon and Bram also recorded a new version of their hugely popular theme song, "Skinnamarink." "It really expands the message of the song to one of diversity for all kinds of people in all kinds of places." Hampson adds.
Sharon, Lois & Bram were once ranked by TV Guide among the top performers for children (second only to Fred Rogers of Mister Rogers' Neighborhood). Album sales, which have surpassed three million copies worldwide, have earned gold and platinum records and three Juno Awards. Concerts at Toronto's historic Massey Hall led to engagements at Broadway's Palace Theater, Lincoln Center, Carnegie Hall, and in 1994, the White House. For their achievements in music, they were inducted into The Order of Canada in 2002. 
The trio first met while working for the Toronto-based Music for Children program in public libraries through Mariposa, an extension of the Mariposa Music Festival. While Hampson and Morrison had known each other from the 1960s when they performed at folk festivals, Lilienstein was a classically trained pianist from Chicago. The three quickly bonded, and in 1978, they recorded "One Elephant, Deux Éléphants," the now iconic song that earned them their first of many gold records.
The album of the same name, says Hampson, was their inaugural release. "Elephants are strong and gentle. They're very family oriented and it's a bilingual country, so it seemed perfect."
"[Lilienstein] was an American songbook jazz baby and she brought that influence—the show tunes from Broadway, the jazzy approach. We incorporated both folk and jazz. It set us apart from other people doing similar things. We had a broader mixture," adds Morrison.
Hampson says, "Lois was an extremely creative person. She had a million ideas and there was no self-consciousness about her. She had a pure love for children and loved doing music for them. It was fun collaborating with her." Lilienstein, one of few Americans to be awarded the Order of Canada, retired from the group in 1999, and since then it's been known as Sharon and Bram.
The nostalgia component is strong. Nowadays, Sharon and Bram's audience consists of parents who grew up on their music and TV shows. "In great part, they are the audience and they bring very young children. I'm happy to know that the music is still in their hearts and they want their children to have it," she says.
Interestingly, Morrison notes that while much of children's free time is screen-based, when kids attend their concerts and do not have access to devices, they're exactly like kids three generations ago. "One thing that works to our advantage—when you're three years old and hear "She'll Be Coming 'Round the Mountain," it's a new song. There are certain standards that keep getting sung again and again."
Every concert is a singalong for the audience, children and parents alike. "Every kid receives it [the music] in his or her own way," Hampson says. "Some kids are up there doing it and others are quiet and absorbing it and it'll come out sometime later." She encourages parents to "let it come to them."
Over the years, the group has supported many programs in Canada and the US, such as school breakfasts for learning, promoting inoculations for children, and internationally as Goodwill Ambassadors for UNICEF in North and South America, for which they received the Danny Kaye Humanitarian Award. Morrison supports Amistad Canada, a Mexico-based charity for whom he's performed fundraisers in San Miguel. Reminiscing on his folk days, he says, "I'm happy to raise money and do concerts with just my guitar and an audience."