Beyond Music, Boston Flutist Sue-Ellen Hershman-Tcherepnin
Finds Ways to Make a Difference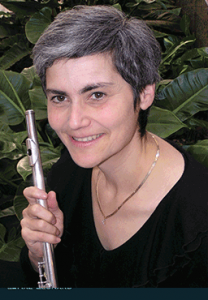 Intersectionality: it's a word that Sue-Ellen Hershman-Tcherepnin says is sometimes overused, but it nevertheless applies to most areas of her life. A Massachusetts native, freelance flutist in the Boston area, and flute teacher at MIT, Hershman-Tcherepnin is also heavily involved in local refugee and immigrant support, and is a past president of Local 9-535 (Boston, MA). While the connections between music, education, unionism, and refugee work might at first seem tenuous, she is quick to point out that they're not so different: all involve helping people.
Music came first. "My early memories are sitting at the keyboard and learning jazz standards with my jazz pianist father," Hershman-Tcherepnin recalls. Flute came later, in third grade. In high school, she played with the Greater Boston Youth Symphony Orchestra, and took lessons with a Boston Symphony player. "I was torn between language, biology, and music, but ultimately decided on music."
Her studies took her to Boston University, followed by grad school at SUNY Stonybrook. Then she moved back to Boston, where in 1978 she co-founded a co-op chamber orchestra called Pro Arte. "Decades later, Pro Arte is still a co-op, managed administratively and artistically by its musicians," Hershman-Tcherepnin says with obvious pride. Pro Arte is also one of only four cooperative orchestras in the country. "But even back in the early days, we knew we needed a strong relationship with the union," she says. And thus began her early forays into union involvement.
A Pro Arte co-founder and its first music director was Harvard chaplain Larry Hill, who was also a social activist. "Larry originally suggested we approach the union," says Hershman-Tcherepnin. "At that time the Boston local was, let's just say, old-school. We wrote up an agreement that the musicians would, as co-owners, pay ourselves $25 per concert and donate the rest back to the orchestra with a long-range plan of getting us up to union scale. And we convinced the union to approve this."
In year two, however, Pro Arte had charges filed against them by a jealous local contractor. "He wanted to shut us down. So we visited the AFM's national office in New York. Organizer Lew Waldeck, an enthusiastic co-op supporter, was quite impressed that we had started our own orchestra and said the National would not get involved." Hill and Hershman-Tcherepnin approached the Industrial Cooperative Association to ask for help with preparing for a hearing, and scored pro bono legal help from them. "Ultimately, we came out smelling like a rose," she says. The Boston freelance contractors were infuriated. "But 40-plus years later, here we are."
Following this success, it was suggested that she run for the Local 9-535 board. "We got Steve Young elected president, and we got our former teachers from the BSO (Boston Symphony Orchestra) to show up and vote and take an interest in transforming the local." Hershman-Tcherepnin was hired by Young as Assistant to the President, a newly created position. She stepped in as president after Young moved to the national office. "Someone ran against me," she recounts. "I wasn't happy with their planned direction, so I ran for another term to protect the local. Because the union is only as strong as its members."
Midway through her second term, her husband became ill. After he passed in 1999, Hershman-Tcherepnin decided to pull back and concentrate on just being a regular musician for a time. But true to form, it wasn't long before she encountered an organization in need: Watertown Citizens for Peace, Justice and the Environment (WCPJE), where she currently serves as president. The organization was originally founded after the nuclear accident at Three Mile Island with a goal of getting contaminated land properly cleaned and usable. "WCPJE is member-driven, made up of working groups formed by members' motivational interests. So seven years ago, I formed a working group on refugee affairs to try to help with the Syrian refugee situation."
The WCPJE refugee and immigrant group tackles a wide variety of needs including tutoring, transportation to medical appointments, clothing, food, and housing for families that have been resettled. "Many undocumented immigrants were cleaning houses or doing childcare prior to COVID-19, so they obviously have no work at the moment." The group also sponsors cultural events, including musical collaborations with immigrant families. And there it is again: intersectionality. A prominent activity is a community iftar (the evening meal eaten by Muslims during Ramadan) where non-Muslims can learn about Islam. Hershman-Tcherepnin points out this is currently also on hold because of COVID-19. The group is continuing what work it can, within social distancing limitations.
The group also makes vital connections with state representatives in a bid to get help with immigration issues at the federal level. "The ICE situation is very frightening for undocumented families, and even people who are here legally are having terrible times," she says. "Those trying to renew their work permits wait months, and then the permits expire." Closer to home for her, the Trump administration's Muslim ban also prevented some of Hershman-Tcherepnin's students from returning to MIT.
Hershman-Tcherepnin was recently named a 2020 Commonwealth Heroine as a result of her work. The annual Commonwealth Heroines celebration recognizes women from across the state who "perform unheralded acts daily that make our homes, neighborhoods, cities and towns better places to live." Reflecting intersectionality with recent news events, WCPJE also has a working group focusing on addressing racial inequities, particularly now that these have been further exposed by COVID-19. "And for me personally," she adds, "intersectionality of these issues comes back to the union now being in an interesting position to look at its own racial issues, both internally and externally. These issues are present in every local." On the positive side, Hershman-Tcherepnin is glad to see the AFM's national officers heeding the call. "It's a daunting time, but I feel a great deal of hope." 
Want to know how you can help? 
Hershman-Tcherepnin says the best way to start is to get in touch with your state's agencies that are working on immigration issues. Several national organizations like the ACLU can also direct people to local initiatives. Here are a few places to start:
BOND/BAIL FUNDS: an effective way to reunite immigrants separated from their families in detention centers. Bail bond can cost anywhere from $20,000-$80,000. The National Bail Fund Network Directory lists funds by state. www.communityjusticeexchange.org/nbfn-directory.
RAICES: Refugee & Immigrant Center for Education & Legal Services. www.raicestexas.org.
UNITED WE DREAM: Immigrant Youth-led Network. Contributors can choose specific donation areas (e.g., help DACA students pay renewal fees).
HIAS: Global Jewish non-profit assisting refugees. www.hias.org.
SAMS: Syrian American Medical Association. www.sams-usa.net.