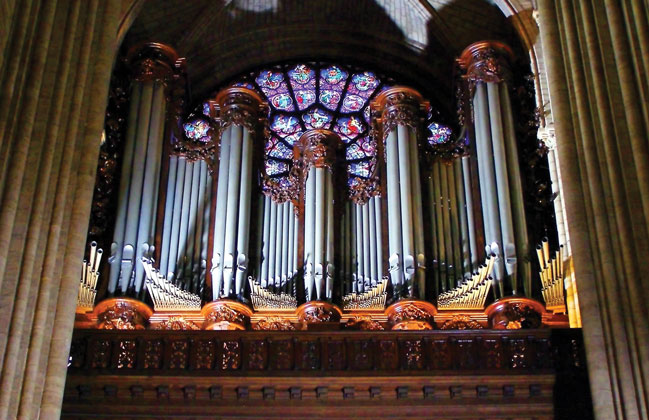 The devastating April 15 fire at Notre Dame Cathedral in Paris shocked the world; but musicians, especially, have been anxious to learn the fate of the cathedral's historic Great Organ, considered one of the most prestigious musical instruments in the world. The famous Cavaillé-Coll organ, built in 1868, has five keyboards, 115 stops, and nearly 8,000 pipes, some of which date back centuries.
One day after the fire, Notre Dame organist Olivier Latry announced on Facebook that the organ miraculously escaped the flames and the water used to extinguish them, but will still need some restoration work. Though the organ is very dusty, we will be able to enjoy it again once the building is restored. "When? No one knows yet," he wrote.
Vincent Dubois, another of the three main organists at Notre Dame, also released a statement on Facebook stating, "Contrary to rumors that have circulated, the great organ is, a priori, saved. There are a few puddles on the left and right, but nothing dramatic. The case and pipework will be saved. This is a miracle," says DuBois, who also told one news outlet that the instrument must be "completely dusted off, cleaned from the soot, the dust that is inside."
Bertrand Cattiaux, an organ restorer who takes care of the upkeep of the instrument, confirmed to media outlets that the organ "did not suffer from the fire," but he said it was damaged by water infiltration from fire hoses, "but not catastrophically."
The staff of Notre Dame are still in the process of fully evaluating the damage to the organ, especially from the intense heat inside the cathedral during the conflagration, as well figuring out how they will make the needed repairs.