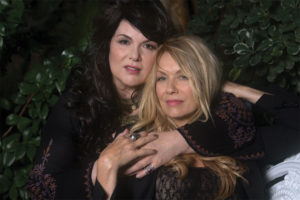 If you want to know what it was like for the first female rockers, talk to Ann and Nancy Wilson of Heart. The multi-instrumentalists and members of Local 76-493 (Seattle, WA) were pioneers, but when they began making music, gender didn't enter into the equation; they just knew they wanted to rock.
The sisters point to February 9, 1964 as the day when Ann, aged 13 and a half, and Nancy, just shy of 10 years old, changed their focus to music forever. "Who we were, and who we imagined we could be, shifted forever on that day," Nancy recalls in the 2012 Heart memoir Kicking & Dreaming: A Story of Heart, Soul, and Rock and Roll. "To us, The Beatles were serious stuff."
They joined the union as Seattle teenagers so they could "feel like professionals," says Nancy.
During high school, the sisters, along with their good friend Sue Ennis, headed down a musical path they would follow throughout their lives. Though Ennis never joined Heart, she continued to be an important collaborator. Memorable Heart songs like "Straight On," "Even It Up," "Mistral Wind" and "Dog & Butterfly" were written with Ennis.
After several years of playing nightly club gigs around Vancouver, Canada, the band's first album, Dreamboat Annie (1976), was released on the small Canadian label Mushroom Records. It gained popularity in Canada, and eventually caught on in the US market as well. It remained on US charts for more than two years.
Barracudas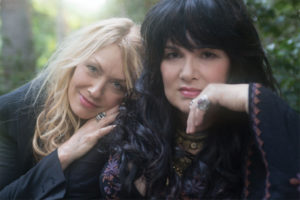 The band topped the chart during the next two decades with hits like "These Dreams," "Alone," "What About Love," "If Looks Could Kill," and "Never." But, Heart's path to rock and roll stardom was not easy. Ann and Nancy were at first naïve to the widespread corruption in radio. Shelley Siegel, promotions manager for Mushroom Records, would introduce them to DJs, then send them away to talk "business."
One particularly sleazy radio promo guy named Tony was an inspiration behind "Barracuda" (1977). "It was about a million Tone-Knees, some in the record industry and some outside it. It was about how this thing we thought was about art was, when mixed with sexuality and marketing, just a sleazy commodity," says Ann.
The Wilson sisters also endured sexism from male counterparts in other bands. "As a woman, I lived a different world; it was a world where I was judged constantly, on and off stage," says Ann, recalling being scrutinized and objectified in ways that male musicians aren't.
While we've come a long way in women's rights, the temptation for female artists to allow their careers to grow off their sexuality, rather than their talent, is just as prevalent as ever. Ann explains that part of the reason the double standards still exist is because of the artists themselves.
"The time will never come until women decide that they are truly equal; I think women are some of the biggest proponents of the old school ways of doing things," she says. "A lot of young women confuse sexuality with feminism. They think, 'I'm a feminist, so I can do whatever I want with my body, therefore I'm going to totally just sell it down the river and that's my choice, so it's cool.'"
The sisters recall how they got swept up in the industry and almost lost themselves in the process in the mid-1980s, during the age of MTV. "As the hairdressers and costume designers came in, the image we projected to the world was less and less our own," says Ann.
"By Brigade [1990] we were struggling to figure out how to be ourselves in a multi-platinum world that we didn't make," says Nancy about Heart's third multi-platinum record in a row. "Another hit album meant another giant tour. We started in Germany, but before rehearsals we were already burned out." At the end of the tour they fired their band.
The Seattle Scene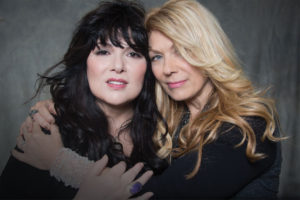 During the 1990s both sisters thought about starting families and began to spend more time in Seattle. The "grunge" movement was in full swing and they befriended many young musicians who looked up to the group.
"The '80s was the time of overproduced songs and videos," says Nancy. "Once we got into the '90s, the Seattle sound was such a breath of fresh air and it exploded the artifice of the '80s."
"In the '90s it was a very tight knit music community," says Ann who cautioned young Seattle musicians to keep their feet on the ground and focus on their music. "All you had to do was be from Seattle and there were guys looking to give you a record contract. This is very confusing to a young band."
When Heart was asked to play a Red Cross benefit in 1991, Ann and Nancy decided to try something completely different—the Lovemongers. Ann was lead singer for this acoustic group where Nancy played lead guitar and Sue Ennis joined them on keyboard. Created as a one-time thing, the Lovemongers ended up doing a mini tour in 1997 and releasing a couple albums.
Throughout the years, both sisters have worked on many independent projects. Nancy has worked on numerous film composing projects including: Say Anything (1989), Jerry Maguire (1996), Almost Famous (2000), Vanilla Sky (2001), and Elizabethtown (2005). She's performed acoustic solo shows beginning in 1997, and released the 1999 solo album Live from McCabe's Guitar Shop. She is currently writing songs and scoring for television.
Ann released her first solo album, Hope & Glory in 2001. This month, she launched The Ann Wilson Thing, which will perform during the off weeks from Heart tours. "It gives me another way to stretch out," she says explaining that she'll be performing bluesy rock in intimate venues.
Back on the Road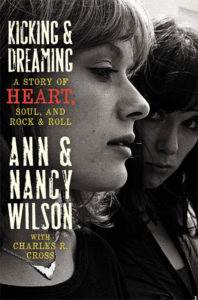 By 2002, after about a five-year hiatus, Heart began touring again. This time the wild touring life took a different turn when they loaded their buses with kids and nannies, touring mostly during the summer, when their kids were out of school.
Heart began work on its first new studio album in a decade in 2003. Jupiters Darling, which was released on a small label and peaked at 94 on the Billboard 200. Their next album, Red Velvet Car (2009) landed them back on the Billboard Top 10, 35 years after their first big hit. Heart is one of the few bands to have scored top 10 hits in four different decades. Ann says their latest album, Fanatic (2012), is the group's most rocking yet.
Part of the beauty of Heart is the way the group has not just endured, but evolved and grown, selling more than 35 million albums in all. The band was inducted into the Rock and Roll Hall of Fame in 2013.
"Heart's had so many incarnations," says Ann. "Red Velvet Car I think is our most diverse album. If you go back into the past, maybe Dog & Butterfly shows the versatility of the band the best." Nancy also points to Dog & Butterfly, along with Little Queen, as the defining early Heart albums.
Comparing the current music industry to when they began, Ann believes a career in music may be an even more difficult path to follow today. "People think it's going to be a glamorous, glorious ride, and really it's a lot of hard work; you have to be excellent," she says. "You can't skate by on your good looks for very long. And your confidence in yourself has to be incredibly strong."
Nancy advises new artists to stay authentic and be true to themselves. "Do not do it at all unless you can't live without doing it because you are passionate and willing to fail," she adds.
Despite the sacrifices Ann and Nancy have made over the years, they still love rocking. "That's the only thing that reaches in and grabs me right where I live. When everything is going right and really clicking it doesn't get any better than that; it's pure love!" Ann says.
"The sacrifices are big but the transcendent experience of playing music is the ultimate reward," says Nancy.