Article sponsored by Newzik.
The Digital Revolution has deeply transformed the press and book industries. Nowadays, you check the news on your smartphone and read books on your tablet. This isn't true for all industries, however; the world of sheet music is only now beginning to move towards digitalization. Musicians who use sheet music reading applications are still considered to be pioneers of a new technological trend by some, pure geeks by others, and the majority of them are still using the traditional paper-based approach. That is, until now.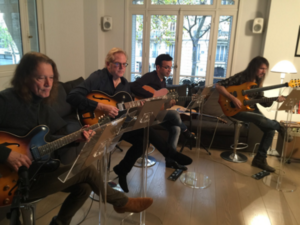 Robben Ford of Local 47 (Los Angeles, CA), John Jorgenson of Local 7 (Orange County, CA), Jean-Félix Lalanne, and Ron Thal rehearsing with the Newzik app.
Replacing paper sheet music with applications on tablets is the next step in the global digital trend to make musicians' lives easier, more convenient, and more efficient. With dematerialized scores, there are no more heavyweight sheet music issues. You can gather and organize your library in a light tablet however you wish. This new technology does the same to the music industry that computers did to the workplace, creating useful shortcuts to improve efficiency and allows you to focus only on your work instead of lingering on pointless time-consuming details. Besides, digital scores are eco-friendly and allow the rise of new educational concepts, not to mention the major improvements in terms of content security and backup.
Technology is only starting to disrupt the sheet music market because of the specific and demanding requirements of the music industry. A musician cannot take the risk of bombing rehearsal due to technical issues such as low battery, or having his tablet crash. Musicians expect this technology to solve their problems, not bring new ones to the table. But this argument is no longer valid: technology has proven its unquestionable reliability.
"Digital scores are the next revolution in the music industry. It allows you to focus on music, and music only!" —Ron Thal
Today, not only is digitalization solving your paper sheet music issues, it is also opening a wide range of new features. Some apps focus on a single specific target in the market. For example, with Yousician guitar beginners can benefit from a tailor-made training program to learn the songs they love. Some other apps like Newzik, on the contrary, chose to reach a larger audience by being a universal sheet music reader. Newzik reads all the music standard formats: Sheet Music, Lyrics & Chords, Lead Sheets, etc. This versatility allows musicians to transpose all their scores, turn pages with a Bluetooth foot Pedal, and much more.
When the first personal computers got released, musicians would either show reluctance to this new technology or enthusiastically adopt it. You can witness the same phenomenon happening with sheet music reading technology. And yet today, can you name a single musician that does not use a computer?