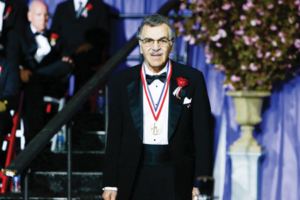 The National Ethnic Coalition of Organizations (NECO) has awarded musician and philanthropist Edward Avedisian of Local 9-535 (Boston, MA) the 2016 Ellis Island Medal of Honor.
"Not only is Ed Avedisian an exceptional musician, he is an extraordinary humanitarian," says Local 9-535 (Boston, MA) President Patrick Hollenbeck, reflecting on this prestigious honor. "Little did we know that the quiet man with clarinet in hand was making people's lives better across the globe in his spare time."
Avedisian's career spans 55 years, as a performing symphonic musician, professor, arts administrator, and philanthropist. He retired after 30 years as clarinetist with the Boston Pops and more than 40 seasons with the Boston Ballet Orchestra. Avedisian has contributed much to the Armenian community and the American University of Armenia (AUA), namely the Center for Health Studies and Research and the Center for Business Research and Development. He is sole benefactor and chair of the AUA Oversight Committee for the Nork Marash Medical Center, which performs open heart surgeries for children at no cost. Other projects include the Paramaz Avedisian Pharmacy Scholarship at University of Rhode Island, the Chobanian Professorship at Boston University Medical Center, and the BU Tanglewood Scholarship. 
"I am very proud to accept the Ellis Island Medal of Honor this year," says Avedisian. "Ellis Island reminds us that we are a welcoming nation built on diversity. I salute the efforts of NECO and greatly appreciate the honor symbolized by the Ellis Island Medal of Honor."
One of the nation's most prestigious awards, the Ellis Island Medal of Honor has been awarded each year since 1986 and recognizes individuals who have made it their mission to share with those less fortunate their wealth of knowledge, indomitable courage, boundless compassion, unique talents, and selfless generosity, all the while maintaining the traditions of their ethnic heritage as they embody the American dream.
Past recipients include Eli Wiesel, Rosa Parks, Colin Powell, Frank Sinatra, and Mohammad Ali, plus six US presidents.