The Reverend Dr. Martin Luther King, Jr. was born Michael King, Jr., in Atlanta, Georgia, January 15, 1929. As one of America's most revered and effective advocates for social justice and racial harmony, he reorganized the civil and human rights movement in the US into a highly inclusive, nonviolent movement that elevated the conscience of a nation.
Dr. King is recognized the world over for his humanitarian work as evidenced by such internationally recognized awards as the Nobel Peace Prize, the Presidential Medal of Freedom (presented posthumously in 1997), and the Congressional Gold Medal (awarded posthumously in 2004). His work is characterized by his ability to galvanize support for national struggles aimed at religious freedom, improved housing, the elimination of poverty, worker rights, social and criminal justice reform, and other social movements that may not have succeeded if they stood alone.
In a January 13, 2017 email to AFM members recognizing the meaning behind Dr. King's work, AFM International President Ray Hair noted, "Dr. King's words are as relevant today as they were half a century ago. Please remember Dr. King's commitment to civil and worker rights on Monday and throughout the year as we fight for justice together."
As the country celebrates his birth and his work to make this nation a better place for all Americans, we look at some musical influences that helped shape his life's mission.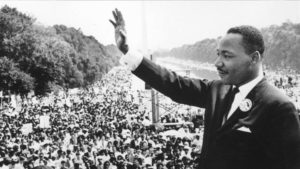 Dr. King was born into a home where music played an important role. His mother, Alberta King, was an extremely talented singer/instrumentalist who served as the director of the choir and church organist at Ebenezer Baptist Church in Atlanta. Music was a mainstay. While studying at the Divinity School at Boston University, King met Coretta Scott who was enrolled at the New England Conservatory of Music. Coretta had been recognized as gifted soprano in Lincoln Normal High School's senior chorus. She also directed a choir at her home church. While in high school, Coretta also played the trumpet and piano, and participated in school musicals. During her senior year in high school, she enrolled in Antioch College in Yellow Springs, Ohio.
Dr. King always recognized the power of music as an "instrument of change." Aside from his familial influence, which included gospel music of all types, his other major influences included such renowned artists as Mahalia Jackson, Sister Rosetta Tharpe, the Swan Silvertones, Nina Simone, Miriam Makeba, and other great vocalists.
As time went on, King also began to extol the virtues of jazz and considered the idiom and the delivery of this art form as "triumphant music." In a piece written in recognition of the 1964 Berlin Jazz Festival, King wrote, "God has wrought many things out of oppression. He has endowed his creatures with the capacity to create, and from this capacity has flowed the sweet songs of sorrow and joy that have allowed man to cope with his environment and many different situations. Jazz speaks for life. The blues tell the story of life's difficulties, and if you think for a moment, you will realize that they take the hardest realities of life and put them into music, only to come out with some new hope or sense of triumph."
King's consideration of the importance of music is reflected across all genres. The 1963 March on Washington, organized by A. Philip Randolph and Bayard Rustin, featuring Dr. King and his "I Have a Dream Speech," was a virtual who's who of American artists including Peter, Paul, and Mary, members of Locals 802 (New York City) and 9-535 (Boston, MA); Harry Belafonte; Camilla Williams for Marian Anderson; Mahalia Jackson; Bob Dylan of Local 802; and Joan Baez, to name a few.
As American symphony orchestras work toward inclusion of African Americans and other minorities among their ranks, King's message has had a remarkable impact on classical communities. Symphony orchestras across the country celebrate his legacy and message of inclusion by performing featured concerts in major and small concert halls, colleges, and universities across the nation, including, but not limited to: The Philadelphia Orchestra, Nashville Symphony, Knoxville Symphony Orchestra, Virginia Symphony Orchestra, Alabama Symphony Orchestra, Atlanta Symphony Orchestra, Muncie Symphony Orchestra, South Bend Symphony Orchestra, National Symphony Orchestra, and Chicago Sinfonietta.
In an interview about his life and career, renowned American conductor Paul Freeman recalls a 2:00 a.m. inspirational chance meeting with Dr. King at the Atlanta airport. When asked by Dr. King why he was in Atlanta, Freeman told him that he was there to guest conduct the Atlanta Symphony Orchestra. Freeman was the founding conductor of Chicago Sinfonietta whose mission was to promote the classical arts for all in the Chicago area, while employing minority musicians to do the job.
Dr. King responded, "Ah, the last bastion of elitism. Glory, Hallelujah!" Not taking this as a slight, it reminded Dr. Freeman that he should remain true to his mission of inclusion and from there, he worked harder until he accomplished his goal. Today, the Sinfonietta remains an active part of Chicago's classical cultural fabric. (See the relevant partial interview at https://www.youtube.com/watch?v=0ADy_Rul3bs.)
For Dr. King, inclusion equated to a stronger nation that was tolerant, caring, and a global leader in civil and human rights. Dr. King's struggle continues today. And we, as musicians, must continue our mission of bringing the joy and healing power of music to every corner of this country and the globe. American musicians tour to advance just that message. Whether under an international commercial touring contract, a nongovernmental sister city relationship, or through US Department of State international exchange programs, professional musicians and artists of all kinds have and will continue to play a role promoting peace, global harmony, and civil and human rights.
As an iconic American catalyst for change, Dr. King's message will help us endure the most difficult times. His appreciation of music and the arts no doubt played a significant role in the development of such a true citizen of the world who was honored with some of the most prestigious international awards. Let's remember that our talent helps support that mission. Thank you for sharing your talent and thank you for your membership in your union. Dr. King would approve of you, your affiliation, and your work.