New Vision of Unionism in the City of Brotherly Love & Sisterly Affection
In order for the AFM to move forward as a whole, progress often needs to start at the local level. Local 77 (Philadelphia, PA) is an example of how transforming a single local can exert positive influence across an entire community.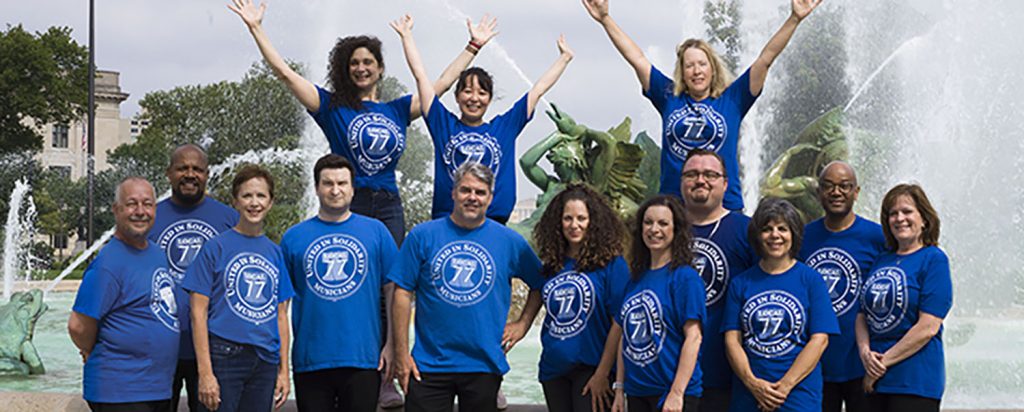 The Philadelphia Musicians' Union boasts a long and storied history. As one of the oldest continuing union affiliates of the American Federation of Labor (AFL), the Philadelphia Musical Society—now AFM Local 77—was one of the original locals of the American Federation of Musicians. 
International Musician spoke with Local 77's three current officers. President Ellen Trainer is principal viola in The Academy of Vocal Arts Orchestra, and a member of The Chamber Orchestra of Philadelphia, Opera Philadelphia, and The Philly Pops. Vice President Marjorie Goldberg, a music educator and an active freelancer, is a member of the viola sections of the Harrisburg Symphony and the Philly Pops. Secretary-Treasurer and trombonist Jarred Antonacci has been active as a performer, recording artist, and music educator in Philadelphia for more than a decade.
All three officers, along with their fellow elected board members, had a shared vision: to be part of a Local that is run by its members, rather than running it for them. Here's their take on why transformational change has been such a powerful—and necessary—factor in a better and healthier music scene for Philadelphia.
---
International Musician: Changing the status quo starts with a need to effect change. Why did you want to change how Local 77 was doing business?
Ellen Trainer: The bottom line was that we were frustrated. In nearly every workplace in the city, musicians were being treated poorly by management. And the musicians were equally frustrated, and, in turn, often treating each other horribly. There was little in the way of collaborative leadership coming from our local, and we just couldn't stand being stagnant anymore.
Marjorie Goldberg: There was a systemic breakdown. In our orchestras, for example, committees were not supported by the local. Let's just say they hadn't really benefited from "the Nathan Kahn School of Training" for orchestra committee duty.
Jarred Antonacci: We also had little overlap between the city's professional orchestras and the freelance community.
---
IM: Why did the three of you want to run for office?
MG: The decision came about when Ellen and I served on an orchestra committee together. During our contract negotiations, our union leadership was absent for lack of a better word. When they were present, we got little help or encouragement. Our management was not actually the problem; it was our own local getting in the way of a good negotiation.
ET: We were constantly being told "you'll never get that in your contract and you should just be grateful for the work." And really, you shouldn't ever say that to any of us, because that's not the kind of people we are. More importantly, as a local officer, you shouldn't say that to the members. They voice what they need, and your job is to try to help them. We got the opposite.
MG: Ellen and I finally agreed we needed to do something about it. At the same time, Jarred was on a poorly run tour and in a horrible work situation. I reached out to him. In the end, the three of us decided to pool our strengths and get the support of the major arts groups in Philadelphia. It turns out, if you want to run for office and you have a major orchestra in your city, you really should include them [laughs]. One of our executive board members, David Fay, is in the Philadelphia Orchestra. Robert Suttmann was on the board of Local 802 in New York, and he knows the freelance business inside and out. Rebecca Ansel is a pit musician and a member of the Philadelphia Ballet Orchestra. We tried to cover all types of gigs because we firmly believed the leadership needed to better reflect the membership, and that the membership should run the union.
ET: I had a successful business, Jarred was on faculty at four universities, and Marj had a lucrative teaching job. None of us did this to have an easier life or make more money. But when you know it can be better, you can't just sit by and not do anything.
---
IM: When it came to the campaign, what were your biggest challenges and greatest strengths?
ET: Our campaign slogan was "Us for You." We like to think we were creating good trouble. By that I mean, even if we didn't win, good trouble was going to spark the change that desperately needed to happen here in Philly.
MG: Our critics kept saying we were just a social club and didn't know anything about running a union. But the irony here is that many unions started off as social clubs. And the more I got involved, the more I realized the social aspect is actually crucial. You'll never be a good organizer without social skills. Listening is crucial, really hearing what needs improvement.
ET: Our goal was to use solid, positive communication to convince members that we would support them in the change they wanted, and to build excitement around that change. Of course, the actual campaign itself was a learning curve.
JA: The funny part was that we were meeting every two weeks and would each assign ourselves to get five people on board to support us before the next meeting. We didn't even realize this was what organizing actually was all about.
MG: The other funny part was the opposition's counterargument to Ellen being president: "She plays too many jobs." But the previous president didn't play any jobs, which is why he wouldn't know that there was sewage in the dressing rooms. That's an example of exactly why you'd want an experienced, working player to be in that office.
JA: As working musicians, we rarely saw the previous administration until there was an election. Most members of our local didn't even know who they were. We needed to completely shift that culture. So, we did everything we needed to do to win a campaign and we got help to do it, from our logo to our website. It worked, and we started getting endorsements every week from orchestras, freelancers, and even amateur musicians. And it was great to see members support other members agitating for positive change. Election turnout was over 60%, and we won 2-1.
---
IM: Once you won the election and received a mandate for change from your members, what happened next? How did you actually set that change in motion?
ET: Creating energy sometimes takes risk. Our job was to get our members to want to take that risk with us. It's just like music: movement, emotion, and creation are what makes the magic. That's what we envisioned for the local.
MG: Early on, we discovered the value of creating and using committees to make decisions and getting members to participate. Examples are the finance committee, diversity committee, bylaw committee, and Music 77, which is our political action committee. We knew we had to make the Local reflect its membership and their engagement.
JA: We also started involving members in writing articles for our quarterly Arpeggio newsletter. The newsletter is a useful tool for member engagement and communication.
ET: We quickly figured out that arts groups in Philadelphia couldn't make progress inside a bubble. Local 77 had to walk the walk and stand with our brothers and sisters for real change. For instance, supporting Amazon workers and participating in rallies for pandemic unemployment benefits. Our membership is learning the value of involving other unions. If we show respect for them, we get it back. We looked around and realized we have union brothers and sisters all around us: postal workers, trash pickup, etc. We finally have an administration in Washington, DC, that supports unionism. The time is now for us to cement our solidarity and stand together for the changes we want to see happen.
---
IM: What other organizing tools have you used?
JA: During the pandemic, we didn't lose many members, thanks, in part, to our organizing and relief funds. We have a nonprofit trust under the Culture Works umbrella, which manages a bunch of smaller nonprofits. The trust's committee is 100% member-run. They vet relief applications and make determinations.
MG: Over the last year, the trust raised over $107,000 and has been given away $57,000. It was funded through the Philadelphia Virtual Music Phestival, completely programmed and run by the members. A lot of musicians and patrons still donate. Some musicians even donated their entire stimulus check.
JA: The Music Performance Trust Fund has also been an effective recruitment tool. We've had non-AFM musicians realize that they should be AFM members for the protection and benefits of a union contract.
MG: In one local band, two of the members were in the union, and they got the rest of the band to join. Also through the MPTF, many of our members volunteered to teach other members how to get a tax ID so they could be sponsors for MPTF performances. It was a wonderful display of musicians helping others to help themselves and get through the pandemic.
---
IM: What are some of your most notable accomplishments since taking office?
MG: For years, the Academy of Vocal Arts (AVA), the world's premiere institution for training young artists as international opera soloists, had a basic contract with their orchestra covering wages (1099) and times for rehearsals. Now they have a comprehensive contract with a permanent roster of musicians, employee status (W-2), and real pension language. AVA Management is a good employer, and they understood and wanted to do even better. It was a real collaborative process.
We also got members of the Philadelphia Orchestra to participate in all of our committees. There is an often perpetuated stereotype that the major orchestras are elite and don't care about their freelance colleagues. But they really do care. We are all workers.
ET: Marj and I were already on our orchestra committees and doing a lot of similar organizing work for years. It was just a matter of getting into an office and using skills we had already developed.
The pandemic really helped bridge the gap between the Philadelphia Orchestra and the community. Many of the orchestra's musicians are on various Local 77 committees with musicians from all over the spectrum. Everyone has a voice, and everyone has respect for each other. They may not be the same in terms of the music they play, but they're thinking together, working together, and creating an even playing field for their work. It facilitates positive change in the entire union, and the city as a whole. It's exciting to see, and you can feel the excitement in the communication.
JA: And speaking of communication, our newsletter has really evolved. When we came into office, it was a simple folded sheet of paper. A list of officers, in memoriam, suspended list, and maybe a random audition notice. And now we have something that looks like a magazine, complete with artwork. People are volunteering to write, and there are regular committee reports. We totally revamped it, and encouraged everyone to take part.
---
IM: Are there any takeaways from your experience at Local 77 that you could share with other AFM locals seeking transformative change, and hoping to involve their members more in the running their union?
ET: One of the things that Jarred, Marj, and I always say is that you can't just complain at the water cooler and expect things to change. Be involved and be active in the change you want to see. Form committees, map out how different orchestras do things to see who their musicians respect and who they struggle with.
JA: We don't have all the answers. If someone says to us, "Hey, what are you gonna do about this?" The follow-up question has to be, "What do you want to do about this, and how can we help to facilitate it?" The members should run their union.
MG: All of our local musicians are learning how to care about each other. If we all have great contracts and work environments, the trickle-down effect really works. Everyone is learning to stick together. We believe our union can and should care about neighboring unions, regardless of the trade.
JA: Once we embraced the idea of members running their union, we all realized that our campaign slogan "Us for You" isn't really correct, as it makes "the union" and the officers a third-party separated from the membership. Now we say "You for You," which is more true­—and much more powerful.
---
Leadership Committees:
In addition to various orchestra committees, Local 77 has created working committees to help facilitate member participation.
Local 77 IDEAS—Council on Inclusion, Diversity, Equity, Access & Solidarity (Diversity Committee)
Philadelphia Musicians Relief Fund—Committee oversees all of the applications and awards of the relief fund and acts as liaison to Greater Philadelphia CultureWorks nonprofit.
Local 77 Finance Committee—Responsible for overseeing financial decisions and making recommendations to the executive board (investments, large purchases, budget).
MUSIC 77 (political action committee)—Active in rallies, work actions, protests, engaging with elected officials, participating in phone banking, etc.
Local 77 Bylaw Committee—Responsible for recommending changes to the bylaws of the local, recommendations are presented to membership for a vote.
---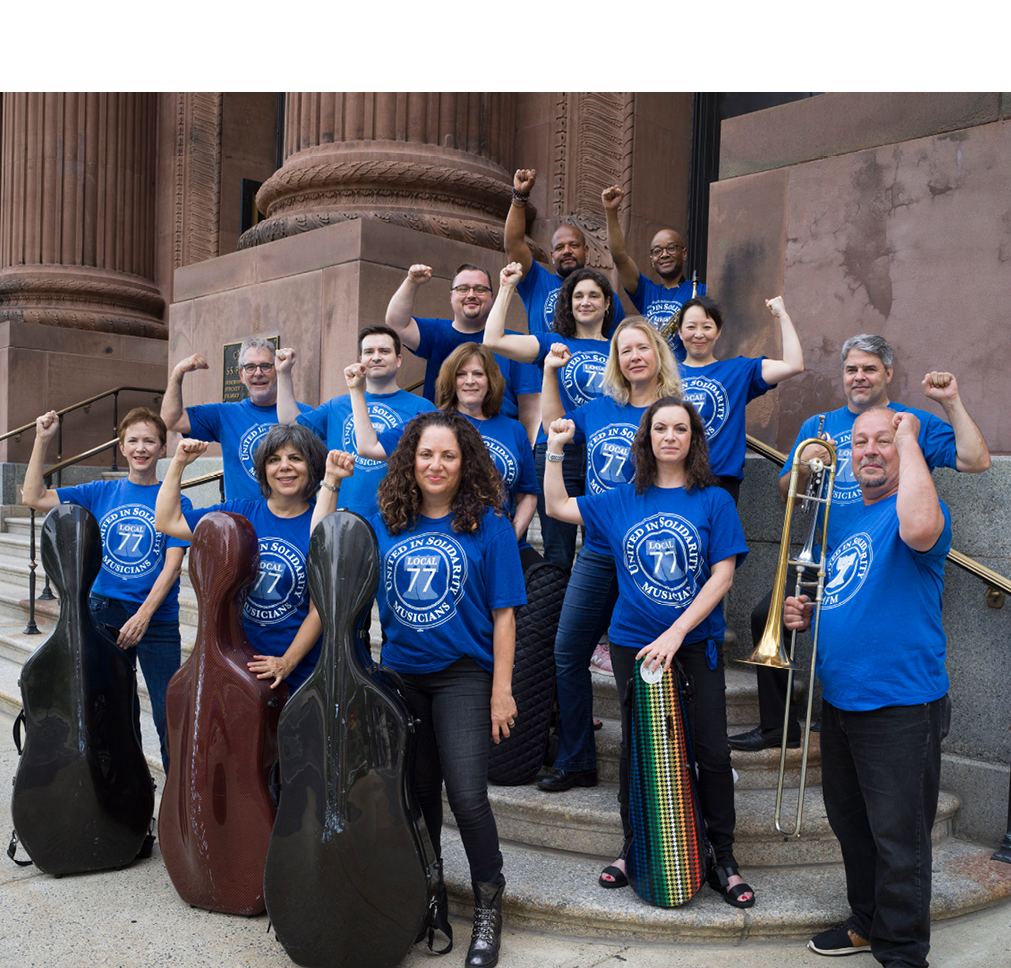 ---
The Unemployment Whisperer
"In the pandemic, everyone at Local 77 stepped up to take on additional roles to help people in various ways," says violinist Rebecca Ansel, a member of the Local 77 executive board. "I kind of fell into the role of unemployment whisperer." Ansel had applied for unemployment before and understood how the system worked, particularly for freelancers. "It's tricky to navigate because it's not set up for freelancers with multiple income streams," she explains. "We have over 700 musicians on our roster, doing all kinds of work, and every person in our office represents every group and freelance organization in Philly. Many of our musicians were fearful to apply because they saw too many obstacles. I collected a list of state senators and their assistants, then I assisted members on how to get through the phone tree with questions."
Ansel adds that the most important part of her assistance was just encouraging Local 77 musicians not to give up. "Sometimes you have to be a squeaky wheel to get these benefits."
---
Theater Musicians
A native Philadelphian, Robert Suttmann has been a member of Local 77 since 1982. As a career substitute musician, he has played on well over 90 Broadway Musical productions since then. He says, "We are thrilled to finally have a Philadelphia Chapter of Theatre Musicians Association (TMA), as Philly has historically been a thriving theater town. We are currently in collaboration with the Chicago TMA Chapter on a project to alert theater audiences on the proliferation of job-cutting technologies being used on national theatrical tours."
---
---
Navigating a Pandemic
David Fay has been a member of the Philadelphia Orchestra's bass section for 37 years. He has served on the orchestra committee for most of that time, and as chair for the past two years. This gave him insight into how the local was run, and how it could be improved. "In the past, just about the only time we interacted with the local was during negotiating years," he says. "As in many cities, the orchestra provides the majority of the work dues for the local. So, when I was approached about joining the Local 77 executive board, I thought it would be a good way for the orchestra to be more involved with the local on a day-to-day basis." Fay says this increased involvement has been extremely helpful over the past 18 months as the orchestra and local both navigated uncharted waters in the COVID-19 crisis. "From negotiating the Philadelphia Orchestra's COVID MOU to facilitating our orchestra meetings, it has also been useful—and fun—getting to know and work with the other members of the executive board."
---