On July 17, 2020, the American Federation of Musicians lost a true champion of our industry, of civil and human rights, and of arts and culture in general. The Honorable John Robert Lewis, first elected to the Congress of the United States in 1986, serving 17 terms as a representative for Georgia's 5th Congressional District, passed away as a victim of pancreatic cancer.
Although his life's work was primarily devoted to civil rights, public service, and the dignity of humankind, Representative Lewis was also a great friend of the AFM and one of this country's greatest supporters of arts and culture and, in particular, music. A review of his voting record since his arrival in Congress reveals that Congressman Lewis never cast a negative vote against any piece of prominent music and arts legislation.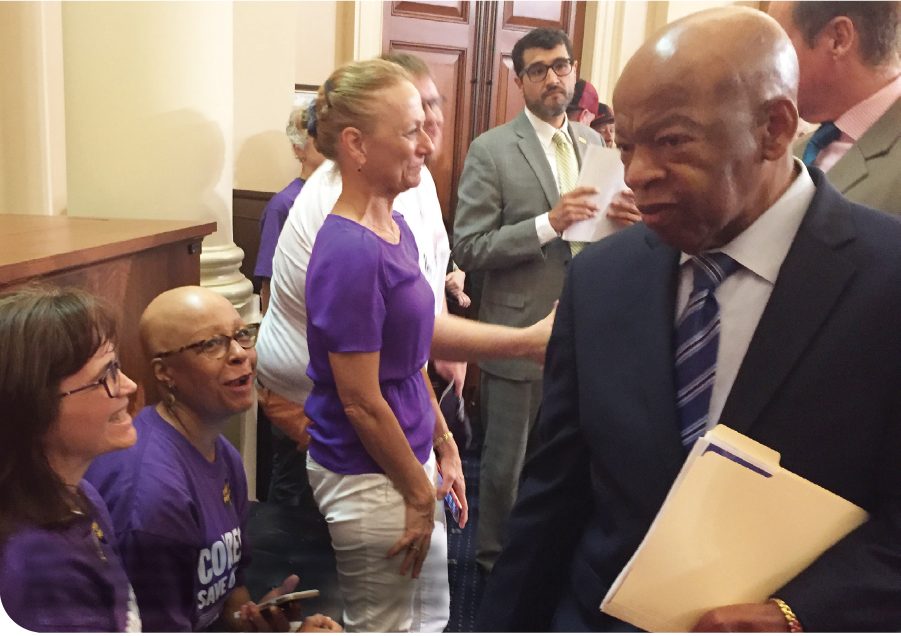 Be it copyright legislation, funding for the arts, cultural exchange, multiemployer pensions, or legal immigration, this 17-term legislator was always on the right side of musicians.
Lewis served on the House Congressional Arts Caucus for many years, both under the bipartisan leadership of chairpersons Rep. Louise Slaughter (D-NY) and Rep. Leonard Lance (R-NJ), and recently under Rep. Chellie Pingree (D-ME) and Rep. Elise Stefanik (R-NY). From the AFM's viewpoint, the bipartisan House Arts Caucus is mainly credited with helping to save the National Endowment for the Arts at its most critical junctures, as well as the Corporation for Public Broadcasting and many other federal cultural programs. But, Lewis' most significant cultural contribution and success was his introduction of federal legislation that led to the development and ultimate opening of the world-renowned Smithsonian National Museum of African American History and Culture.
During the second session of his first term in 1988, John Lewis introduced a bill to create this national Smithsonian museum. The bill passed the House each time but was always defeated by segregationist Senator Jesse Helms (R-NC), who retired in 2003. Lewis introduced new bills for 15 sessions until, after Helms' retirement, US Senator Sam Brownback (R-KS) introduced a Senate companion bill in support of Lewis' House legislation. At that point, the bill passed both chambers of Congress and in 2003 President George W. Bush signed it into law. Construction soon began on the building in 2005, which sits next to the Washington Monument on the National Mall. The museum's doors opened with great anticipation on September 24, 2016.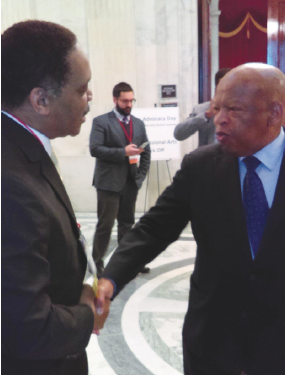 His legendary work in civil rights first saw him as one of the lead organizers and speakers of the 1963 March on Washington with Bayard Rustin and Dr. Martin Luther King, Jr.; as chairman of the Student Nonviolent Coordinating Committee (SNCC); as an organizer/protester who helped integrate lunch counters in Nashville, TN; and in 1961 as one of the 13 original Freedom Riders. Lewis was most well known as one of the lead organizers and participants in the march across the Edmund Pettus Bridge on "Bloody Sunday," March 7, 1965, where he and his fellow marchers were attacked by Alabama State Police officers. Lewis' skull was cracked by a police billy club, an injury he was renowned for throughout his congressional career until his death.
As a nonviolent advocate for change, Lewis was often heard encouraging his followers to not just protest and get into trouble, he advocated that they seek to get into "good trouble" to advance the cause of peaceful protest, to stand firm for the causes that advance human dignity and understanding.
John Lewis was a great American humanitarian and fearless representative of the people. The AFM will sorely miss his presence.