From March 2-4, AFM President Ray Hair made a trip to the nation's capital to visit with principal sponsors/legislators who are responsible for introducing legislation specific to this union's mission. The Bipartisan Artist Tax Parity Act (HR 3121) offered by Representative Judy Chu (D-CA) and Vern Buchanan (R-FL), would help restore qualified performing artist's "above the line" tax deductions lost with the passage of the Republican Tax Cuts and Jobs Act of 2019.
We met with Chu, the bill's principal sponsor, in the Capitol Building and filled her in on our efforts to bring more co-sponsors onto the bill. While on the Hill for those two days, we also spoke with congressmen Collin Peterson (D-MN) and Jerrold Nadler (D-NY), as well as the staff for representatives George Holding and Ways and Means Chair Richard Neal to shore up their support for the Chu and Nadler legislation.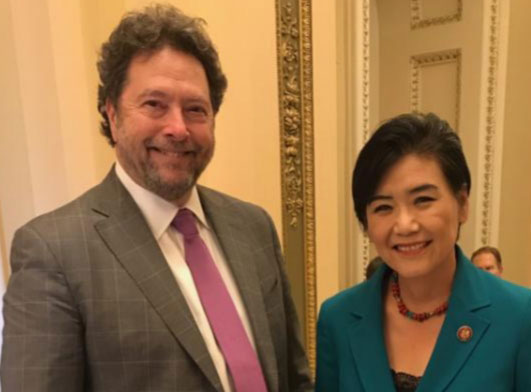 Nadler's bill, the Ask Musicians for Music (AM FM) Act (HR 5219), provides a performance right for music played on terrestrial AM/FM radio. We also spoke with the chairman about supporting cross-border non-resident immigration O and P visas that are now complicated by new U.S. Citizenship and Immigration Services (USCIS) rules. These rules are scheduled to increase visa fees relating in part to AFM Canadian members who apply for temporary entry into the US for short-term employment purposes.
At that 8:30 a.m. breakfast meeting, Nadler reiterated his determination to see HR 5219 through this year and urged the AFM and its Music First Coalition partners to work closely with radio broadcasters to complete negotiations that would lead to swift passage. Our meeting with Homeland Security Chair Bennie Thompson to discuss border issues is being rescheduled due to an appointment conflict.