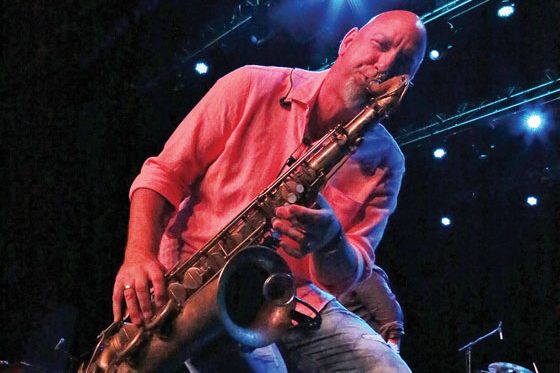 New York City always felt like home to saxophonist and North Carolina native John Isley. From the time he stepped foot in the city, he knew he belonged there. It was the early 1980s, and he was standing in the middle of Times Square, back then only a seedy corridor. He admits it was scary for a kid from a small town in the South, but says, "You know, it just had such a vibe. I remember being terrified and at the same time standing there and just knowing in my soul that I had never belonged anyplace like I belonged there."
Isley, of Local 802 (New York City), had heard stories about New York back in Greensboro from former teacher Neill Clegg, who inspired him. "He said to me, 'If you want to become who you say you want to be, then you need to be someplace else. And that someplace else is New York.'"
Though he had auditioned for the Manhattan School of Music, finances delayed his admission to the conservatory. To make money, Isley, at 17 years old, went on the road as part of the horn section for an 11-piece, all-black, funk soul band. Looking back, he says, "It was a hell of an education." The Fantastic Showmen performed throughout the southeast playing the Chitlin Circuit and the beach clubs from Florida through Georgia to South Carolina, Virginia, and Tennessee. "[The band] really taught me the ropes, how to be a traveling, touring, working musician," says Isley, adding, "There was no book, there were no charts. It was stand on stage and keep up, son!"
At times, the life lessons were ugly. "We were subject to abuse by law enforcement and other people, primarily because [my bandmates] were black. I witnessed it firsthand. I vividly remember thinking: 'This is 1985, not 1955.' There was still systemic racism and other-ism."
After a year on the road, Isley returned to New York and was part of the first graduating class of the New School's Jazz and Contemporary Music program. While pursuing a master's degree at Queens College, he studied with renowned saxophonist Jimmy Heath of Local 802 and pianist Sir Roland Hanna.
"Everything I do is based in a jazz sensibility," says Isley, who credits his first saxophone teacher, Scott Adair, for building his theoretical background in music and improvisation. "He was the first person that turned me on to actual jazz. I spent a lot of time studying Charlie Parker and Cannonball Adderley."
Early in his career, Isley found himself mirroring his favorite artists, conjuring their style and technique. "I remember a friend of mine saying, 'You know you're not bad for a Michael Brecker clone in your price range.'" he says. "I started out being as emulative as I possibly could be. Now, anybody who hears me play, they might point to Coltrane, Charlie Parker, Lee Allen, or King Curtis, or Junior Walker."
For the past 10 years, Isley has made his career about composing, playing, and performing what he hears and feels, a kind of abstract of all his influences. He channels his heroes in a way that allows his own artistry to shine. "It's a conscious choice to try to find whatever my voice may be. I'm not saying that my voice is necessarily loud enough or valid enough to be in that pantheon of players. I'm just trying to figure out what music actually means to me at this point," he says.
He calls himself a contemporary musician who loves jazz, and spends much of his time practicing it, but in his practical day-to-day life of musicmaking, Isley is an R&B soul and funk saxophone player. "That's where my heart lies," he says. "That's who I am."
In the early 1990s, Isley was making his way through graduate school as a copyist for Broadway and the American Chamber Music Society of Lincoln Center. He joined the union to begin earning the benefits and to procure more union work, saying, "If it exists in the music business, I've probably worn the hat at some point." This includes a stint in 1997 in which he and Asbury Jukes trumpeter Chris Anderson of Local 802 cofounded New York Horns, a horn section that offered online track delivery.  
After doing about a hundred shows, starting in 2003, as a sub on Broadway for the Tony Award-winning show Movin' Out, Isley went on a national tour for the show for almost five years. He came back in early 2008, expecting to return to a robust career subbing on Broadway. Instead, he found it languishing in the aftermath of the financial crisis. "I was subbing on five different shows at the time. By January 4, 2009, every show I was working on closed. Everything I was doing, I mean, the bottom just drops right out of the business. I was gone for four and a half years. I went from working a lot to not working at all."
In the course of the next eight or 10 months, Isley spent every dime he had saved from four years on the road—just surviving. He thought about giving up music entirely, and seriously considered going to culinary school, but wound up going to work for Apple as a creative trainer. He turned out to be a good teacher, honing skills he uses to this day.
A couple of years ago, John Lyon (also known as Southside Johnny) front man of the Asbury Jukes, asked Isley, its sax player, to arrange some Billie Holiday material for him. The final arrangement, conducted by Isley, called Detour Ahead: The Music of Billie Holiday, premiered at the Apollo Theater. It was a defining moment for him. Imagining the performers who graced the iconic stage, he felt overwhelmed. The project is highly representative of Isley's lifework: bringing in elements of blues and soul, yet never straying far from Holiday's—or his own—jazz roots.
As the baritone player for Diana Ross, Isley has traveled the world. In 2015, following a New Year's Eve performance in Singapore, the band stopped in Japan to play the Budokan, an old sumo wrestling arena in Tokyo. He says, "There is a picture of the Japanese rising sun flag on the Budokan stage. I vividly remember walking out on that stage for soundcheck and looking up and there's that rising sun flag hanging up there. And it was just a real spiritual moment."
Two years ago, Isley rounded out his career with a teaching position in jazz arrangement and orchestration at Sarah Lawrence College, an effort he finds richly rewarding.
"The way I look at it, 25, 30 years from now, one of my students might be on a phone interview with someone and say, 'Yeah, this guy had a profound impact on my life.'" Isley remembers his teacher and friend Neill Clegg. "None of what I have, none of who I am, none of what I do would exist without him at this point, because he was the reason I came to New York. He believed in me in a way that no one else, much less myself, did at that time. So, he really set all of this in motion." Isley hopes he can be remembered the same way.