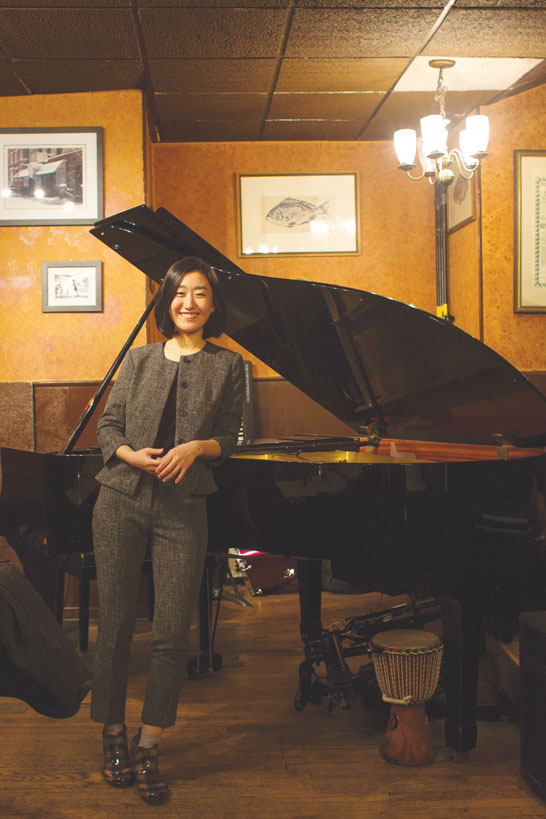 Jazz and access to like-minded artists drew Jinjoo Yoo to New York City. The 29-year-old South Korean pianist enrolled in the Aaron Copland School of Music at Queens College in 2015, earning a master's degree in jazz performance in 2017. She observes, "The fact that New York is a hub for talented musicians from all over the world—it's something employers might take advantage of. I believe this is why artists need to gather and act together. Better conditions for artists will improve the quality of their work—jazz fans, the music industry, our society, and community will benefit."

Yoo first heard a live jazz trio when she was 17, an experience she says, "simply blew my mind! I thought, 'jazz is weird and I like it!'" She could relate to the way it seemed to describe the world—its joy, beauty, and pain. In South Korea, she studied sociology and economics, but joined the university's jazz band and found herself becoming increasingly immersed in the music.

"I still remember the first time I heard Bud Powell playing his tune 'Cleopatra's Dream.' His music got stuck in my head and I could not get rid of it. I bought a jazz harmony book and studied chords and voicings myself. The jazz lecture videos of legendary pianist Barry Harris [of Local 802] were tremendously helpful. I still remember the thrill when I finally met him in person in New York in 2015," she says.

Having a strong musical foundation prepared Yoo for the rigors of learning a new genre. As a youngster, she took part in piano competitions, but distinctly remembers it was not the classical music that thrilled her, rather the sound of the piano. "I always wanted to arrange or compose songs and improvise melodies over original songs. Unfortunately, nobody recommended that I learn jazz because nobody from my hometown knew about this music," she says.

"Learning jazz is like learning a language—a new vocabulary, idioms, grammar, and expressions that help me communicate with people," Yoo explains. Jazz greats Charlie Parker, Dexter Gordon, and Billie Holiday became part of her vernacular. She devoured the piano stylings of Mary Lou Williams, Wynton Kelly, Teddy Wilson, Sonny Clark, Art Tatum, Jimmy Rowles, and Carmen McRae.

In New York, Yoo joined Local 802. As a student in South Korea, she worked with labor unions and non-governmental bodies. "My experience working with different organizations and unions made me realize that it is very important to fight together for our common rights," she says. The Korea Musicians' Union, established in 2013, was officially registered as a labor union just last year. Yoo sees signs of major progress in the South Korean music industry, which has not historically fostered a culture of negotiation.

Now performing with seasoned players, she says, "I think finding the right people (colleagues, jazz authors, labels) to work with is very important. I was lucky to meet and get to know some incredible jazz artists who helped me to adjust to this city and enlightened me with their beautiful approach to the music."

Fellow musicians promoted her musical development, culminating in the 2018 release of her CD I'm Curious. She has toured in support of the album in the US and Europe. Last month she traveled to Spain to celebrate the album's release there. "It represents a search for the music I love and want to pursue," she says. "I believe that I am still in the middle of the journey." She will tour the UK next year with trumpeter Chris Hodgkins.

In 2016, Yoo was invited as a guest artist to perform for the Book and Jazz Concert hosted by Root Impact, a South Korea-based nonprofit active in the US in support of projects for greater social investment. The following year, she was selected as one of the finalists for the Baku Jazz Competition. Yoo credits her success to important lessons she learned watching other musicians: "They know how to put music before themselves. I try to be patient and honest in music, like them."

Of New York City, Yoo says, "This city always surprises me. Every night, somewhere in this city, great jazz music is happening. I think this is the 'jazz culture' that we are missing in [South] Korea. This culture is firmly rooted in American history that cannot really be imitated. It is amazing to listen to and talk to the greatest jazz musicians in this world right in front of you."