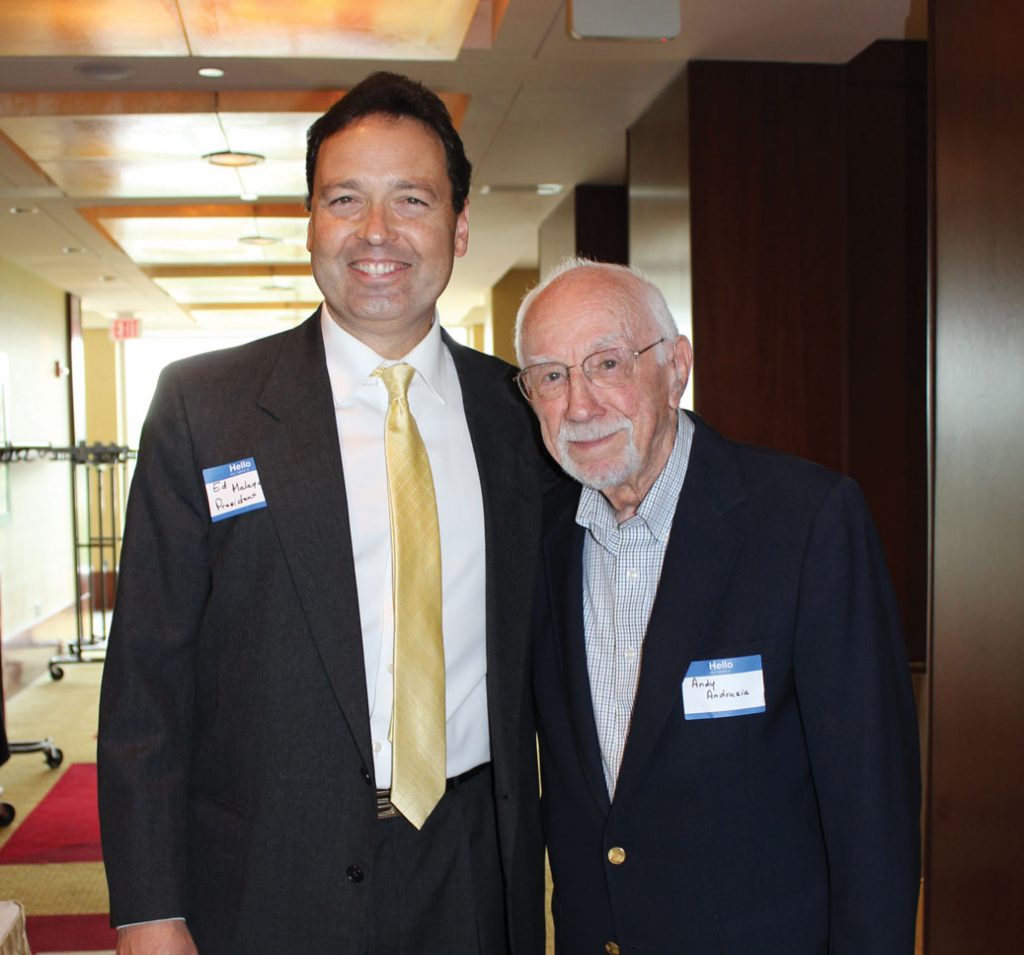 Irving "Andy" Andrusia of Local 161-710 (Washington, D.C.) may be a centenarian, but his life remains busy and filled with song. "I still work, I still drive—day and night—and I'm still connected to music," he says. Hearing loss has made it a challenge to continue playing his string bass ("My fingers are fine, my mind is all here, but you have to understand, I stood next to drummers and ear-splitting amps for 70 years!"), but Andrusia stays on in the industry working in the front of the house at the 2,000-seat Music Center at Strathmore, just outside the Beltway in Bethesda, MD. As his 101st birthday approaches, Andrusia's commitment to the union remains as strong as ever. He has been a union member since 1944.
"I like the benefits; I get vacation days and health benefits. My kids even get a $1,500 death benefit when I die, though that'll be awhile" he says with a wry chuckle. "I'm a union man. I've always been a union man. My father was a union man, and I'm a union man," affirms Andrusia, whose immigrant father was a skilled cabinetmaker and a member of his local carpenters' union. Andrusia was the youngest of seven children and the only one born in the United States, after the Russian Jewish family made their new home in Washington, D.C.
Andrusia's first brush with the music business came in kindergarten, where he was selected as conductor of his kindergarten band, he explains with a laugh, but things got more serious a few years later. After false starts on the violin and the tuba in elementary and junior high, he joined the high school Cadet Band. "They didn't need a tuba, but the teacher said, 'Hey, we have a string bass in the closet, want to give it a try?' So I did!" Andrusia says. "And I went every day and I took string bass lessons with the teacher right there in that closet."
Finally, Andrusia had found his instrument; and from there, it was off to the races. He formed bands with his friends and started booking gigs while they were still in high school. New York bandleader and composer/arranger Bob Sylvester saw them live in D.C. one night. "He said, 'As soon as you graduate, I'll take you on tour!' So we graduated, joined the union, and went on a tour of the whole south: Georgia, Tennessee, Louisiana, the whole thing." Six months later, homesickness brought Andrusia back to D.C., where he played night gigs while working as a machinist in the Navy Yard. "And then December 7th, [1941] happened," he says. Andrusia, because he was a skilled machinist making necessary equipment, avoided the draft and continued to work (and play music) throughout World War II at home in the nation's capital.
After the war, things heated up professionally for Andrusia, whose flexibility and love for all genres of music kept him performing nearly every night of the week. He considers himself a proud journeyman, happy to take work as it came. "I played weddings, bar mitzvahs, but also theaters and vaudeville," he says. He eventually landed longer-standing gigs with jazz pianist and songwriter Dardanelle Hadley and, later, big band leader Horace Heidt. Heidt brought Andrusia to Los Angeles, where he spent half a decade working the show business band circuit. He played the openings of both the Regent Beverly Wilshire Hotel and "if you can believe it, a little place called Disneyland!" before eventually marrying and returning to D.C. Back home, he took a day job as a mechanical engineer at a defense contracting firm, still playing music several nights a week.
Living in the nation's capital has its advantages for a musician, especially a high-demand bass player in the big band and pops scene. "I played every inauguration from FDR through Reagan," he says. "I played at the White House, oh, five or six times." But he also played every small club in town, and credits his union membership with making that possible. "They saved and recovered a lot of money for me over the years," he says. "Whenever we'd have a contract and the owner would try to tilt the scale a little, [our union] would make sure we'd get what we were owed."
Having watched (and participated in) the arc of organizing over the past 85 years as a union member has given Andrusia unique insight into the labor movement. "A lot of it has died down over the years. But I always look and I say to myself, all these complaints, all these grievances that workers have these days, why aren't they organizing?" he says. But he has hope because he sees interest rising again. "Historically, unions are the only way that the middle class and the lower class get any leverage against the bosses, and I think young people are beginning to realize that again," Andrusia says. "Unions are important!"