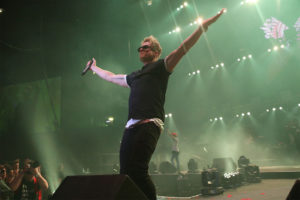 Professional musicians all deal with varying levels of stress. National and international tours, performance anxiety, a hectic schedule, and separation from friends and family for long periods of time are just some of the unique challenges musicians face.
When traveling from venue to venue, the body must constantly adapt to new settings, which can disrupt sleep patterns, aggravating the body's stress response. The more stress a musician feels, the more harm that could occur to his or her playing, since inappropriate muscle tension can hinder performance.
Stress is something everyone experiences and is the normal physical response to events or changes in the environment that make people feel threatened, upset, or off-balance. The body's stress response, in small doses, can actually be helpful in an important performance or recording session, since it helps you stay focused, energetic, and alert. But chronic stress can cause serious damage to one's health, mood, productivity, and quality of life, if it isn't managed properly. Since a musician's bread and butter is the ability to play an instrument, keeping the body in good shape and maintaining overall health is essential. Long-term exposure to stress can raise blood pressure, suppress the immune system, increase the risk of heart attack and stroke, and can leave musicians more susceptible to anxiety and depression.
Dr. Stephen Sideroff, clinical director at Moonview Treatment and Optimal Performance Center in Santa Monica, California, and assistant clinical professor in the psychiatry department at UCLA, works with musicians, athletes, and other members of the entertainment industry on overcoming and coping with stress and pressures related to career burnouts. "One of the issues musicians deal with is the performance anxiety of getting up in front of audiences and having to perform perfectly," says Sideroff. "In other areas of life we don't have to be that perfect; 90% is pretty good. With a musician and a performance, the mistakes are even more magnified and there is a lot of pressure to be perfect."
How to Deal with Stress
If you are starting to feel some of the mental, physical, and emotional side effects of stress, there are things you can do on your own to cope better. Sideroff suggests training yourself to relax using exercises like deep breathing, meditation, or yoga. Physical exercise is another way to relieve stress. If you don't have access to a gym or dislike the traditional ways of working out, something as simple as a walk around the block can help ease the stress response. "If muscle tension builds from that 'fight or flight' response to stress, the heart rate goes up," says
Sideroff. "Physical exercise provides the opportunity to release that built-up energy and tension in the body." Sideroff also recommends learning to practice self-appreciation to curb performance related anxiety and stress. "If you have success and have done well, own that success and appreciate the abilities and skills you have in order to build confidence," he says. "The more you do that, the less those situations are perceived as dangerous or uncertain."
Making a point to take vacations and regular breaks during practice is another way a musician can recuperate from job stress. While gigs at night are unavoidable, Sideroff suggests avoiding unnecessary job-related tasks late at night. Most things can wait until the morning when you are more alert and rested.
Building and maintaining a strong network of friends and family is one of the greatest protectors against stress. If you have people in your life that you can turn to with problems and depend on for support, pressures from work don't seem as bad. If you are in a situation where you travel and tour frequently, make sure you always have phone and e-mail access to keep in touch with your family and friends.
There are plenty of other resources to help musicians cope with stress and related health concerns. Contact your primary care physician or visit artsmed.org to find a doctor or treatment facility that specializes in performing artists and musicians.
Symptoms and Signals that Stress Is Taking a Toll Look out for these chronic stress warning signs:
Cognitive
• Memory problems
• Difficulty concentrating
• Poor judgment
• Negative thoughts
• Constant worrying
• Anxiety
Emotional
• Moodiness
• Short temper
• Agitation
• Feeling overwhelmed
• Sense of loneliness and isolation
• Depression
Physical
• Aches and pains
• Diarrhea or constipation
• Nausea or dizziness
• Rapid heartbeat and chest pain
• Loss of sex drive
• Frequent colds
Behavioral
• Changes in eating patterns
• Sleeping too much or too little
• Isolating oneself from others
• Neglecting responsibilities
• Nervous habits (nail-biting)
• Using drugs/alcohol to relax
Some of the information in this article came from the HelpGuide.org.