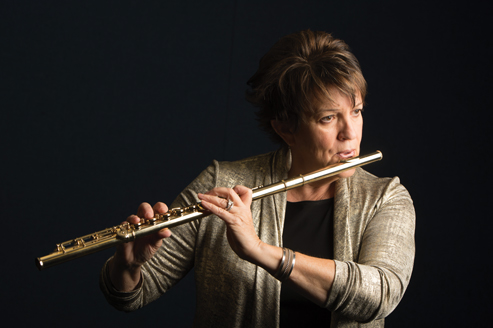 Holly Hofmann is the rarest of musicians: A flutist who has made a successful career as a jazz player. Considered one of the most influential artists on jazz flute, Hofmann, of Local 325 (San Diego, CA), capitalizes on the instrument's versatile palette to produce a convincing hard bop sound. In her hands, the flute is a front-line instrument.
Hofmann laughs when she says, "It's become kind of a joke when I see clarinetist Ken Peplowski on the road … we always just say, 'Oh, man, are you still playing that classical instrument?'"
Tutored by her jazz guitarist father Nelson Hofmann, the Great American Songbook was her entrée to jazz. Hofmann says, "We played every night after dinner. I would listen to a song and embellish the melody. Then, we'd put these little solos together and pretty soon I was improvising."
At 11 years old, she bought her first jazz recording, We Get Requests, by the Oscar Peterson Trio, with Ray Brown and Ed Thigpen. "Dizzy Gillespie once told me I sounded like a trumpet player," Hofmann says. "I didn't have any flute recordings growing up. My dad was a Big Band devotee and there were no flute recordings to speak of. [Besides] Herbie Mann and Paul Horn, there was really nothing for me to listen to. So, I listened to all the soloists in the big band, which were trumpet players and saxophone players."
Her parents insisted she complete her education in orchestral performance as a backup plan: "In case I couldn't make a living as an artist, I could teach college," she says. She attended Interlochen Arts Academy and by 15 she was studying with the Cleveland Orchestra's Principal Flutist Maurice Sharp. She graduated from the Cleveland Institute of Music and received a master's degree in performance and education from the University of Northern Colorado.
A stint in New York City in the 1990s sitting in on jam sessions with Count Basie's flute veteran Frank Wess and trombone great Slide Hampton fortified her love of jazz flute. It was there that she also got one of her first big breaks. Lorraine Gordon of the Village Vanguard offered her a six-night headlining gig, a show Hofmann did for three years with a trio of heavyweights: bassist Ray Brown, pianist Kenny Barron of Local 802 (New York City), and drummer Victor Lewis. At the time, Hofmann was the only jazz flute player the venue had presented and one of the only female instrumentalists.
In fact, Brown invited Hofmann to tour the US and Europe with his trio. "Talk about a lifelong dream!" Hofmann says. "Instead of taking tenor and trumpet and vocal, which is what everybody wanted, he brought Regina Carter on violin and me on flute. [Brown] was an incredible supporter. He didn't have a mind full of those stereotypes, because he was an innovator himself."
In the mid '90s, Holly Hofmann also began performing nationally with pianist Bill Cunliffe of Local 47 (Los Angeles, CA), a partnership that led to several recordings, including her acclaimed Holly Hofmann Quartet Live at Birdland, featuring Brown and Lewis. To date, she has 13 recordings as a leader.
The long-held bias that the flute is ill-suited to the jazz idiom has been a common theme in Hofmann's career, starting in junior high school. "They didn't want me in the jazz ensemble because flute didn't belong—and I was a girl," she says.
Hofmann was subjected to the double stigma of a woman playing flute in jazz—as if both were incapable of competing with male-dominated brass and reeds. She was "the wrong age, the wrong sex, the wrong instrument." Hofmann has made it her mission to change this perception, saying, "I want [people] to hear the flute in a context where they're not expecting it: full on as a horn, a typical jazz horn."
Hofmann joined the union in 1988, before recording her first CD, Take Note. "In those years [joining the union] was a sign of being serious about your craft, and you were in a pool with a lot of other people, both classical and jazz, who were serious about their craft," she says. "I've been a lifelong member because there are opportunities you have with the union membership that you wouldn't necessarily have [otherwise]. I chose festivals and opportunities as a young player that paid work dues because that meant a contract got filed. As a young player, I wouldn't have been able to ameliorate any bad situation without the union."
Pianist Mike Wofford (music director for both Sarah Vaughan and Ella Fitzgerald) of Local 325 appeared on Hofmann's first two recordings. They collaborated for a decade and eventually married. Like Ray Brown, Wofford had a significant impact on her career. "Having played with every jazz musician you can think of—he really is the biggest influence. I learned so much from him about harmony and voice leading and progressions," Hofmann says.
The duo toured in various quartet settings, with Brown, Lewis, Peter Washington, and Ben Riley. From 2000 to 2004, they toured and recorded with Flutology, an all-star sextet featuring Wess, Lewis, and fellow flutist Ali Ryerson.
Soon Hofmann and Wofford will be traveling in New Zealand, as they do every few years. "It's different there than even the western European countries we've played. There, people don't really know your name … but they come anyway because they like the music and they don't get as many opportunities to hear great jazz artists," she says.
As a woman in jazz and a front-line artist who years ago had been told she would never make it as a jazz player, Holly Hofmann is acutely aware of expectations, both as a performer and as a role model. "People ask me, 'Has it gotten better?' I say 'Yes, it's gotten better, but it's not the same. The stereotype is still there.' They wonder if women can swing. They wonder, especially, how a woman flute player is going to play."
It's not an even playing field, but women are beginning to make their mark and, Hofmann says, "I will have contributed to that change."