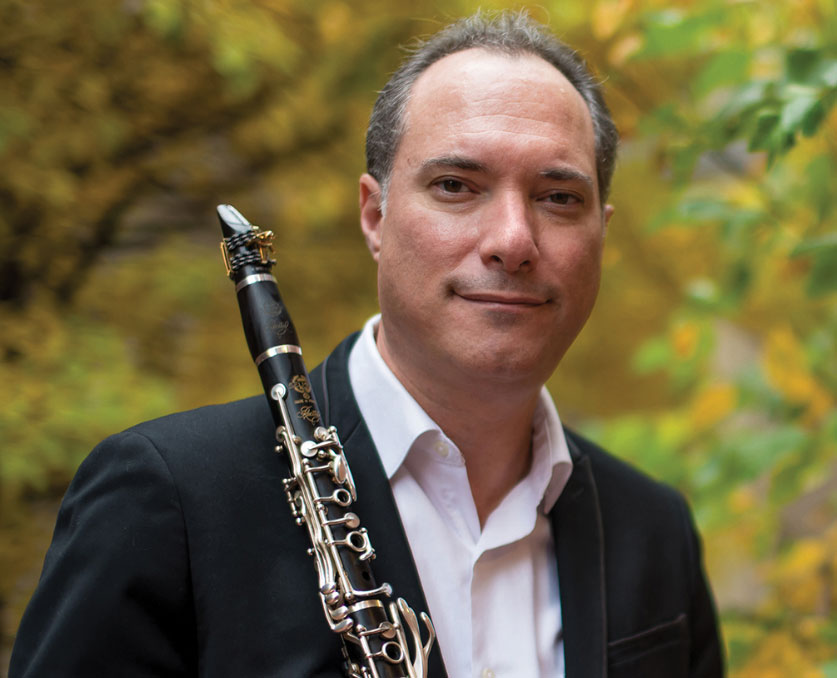 "Versatile" is an often-used buzzword these days when describing working musicians, but it's rare to find a musician who truly incorporates every facet of the word in their daily life. For clarinetist Guy Yehuda of Local 56 (Grand Rapids, MI), versatility isn't just a buzzword—it's how he stays fresh and competitive in today's heavily commercialized music world.
Between teaching, solo and orchestral performing, giving clinics, and playing chamber music, Yehuda seems to wear a daunting number of hats. Currently principal clarinet in the Lansing (MI) Symphony, he is a frequent recitalist in North America and Europe. He is also an active clinician and recording artist, and has given master classes throughout the US, Canada, Mexico, Europe, and Israel. Yehuda is an associate professor and teaching artist at Michigan State University (MSU), and—as if all that wasn't enough—he is also a published composer.
He attributes the astonishing variety of the work to his success. "I love it all," Yehuda says. "When I play Mahler or Shostakovich in the orchestra, the thrill is as transcending as when I play a Brahms quintet. It's vital to learn flexibility and figure out how to change the music in your own playing."
Adaptability was a lesson Yehuda learned as a young boy in Israel. His father first turned him onto the clarinet after hearing a famous klezmer player on television. Yehuda started clarinet at age 12 and quickly took to it, adding it to a long list of things he was already doing well, including painting and drawing, which he had been gearing himself toward as a career. "I was in an arts school," he recalls. "But music started to take over. I was practicing, performing, and winning accolades. Things started to pave their own way." Yehuda says it quickly became evident that the clarinet would be his path.
Yehuda's switch to music ultimately led him to being the top prizewinner in several international competitions, including the 2003 Heida Hermanns International Woodwind Competition and the 2004 Fischoff Chamber Music Competition with Trio di Colore, of which he is a founding member. While working on a bachelor's degree, he made his North American concerto debut with the Royal Conservatory of Music in Toronto, going on to receive a master's degree, doctorate, and performer's certificate from Indiana University's Jacobs School of Music. He joined the Lansing Symphony in 2013 and became a member of the Lansing AFM local that year. "Strength in numbers is crucial," he believes. "There are many forces in the commercial world not always favorable to musicians. The union makes sure we have a voice in that world."
Success along the way has taught Yehuda the importance of giving back. "I'm a performer at the core," he says, "but from a young age I understood the obligation of continuing the line of communicating learning from one generation to another. I received such valuable knowledge, how could I keep that to myself?" It's not surprising that Yehuda took on his first clarinet students at 17 in his hometown in Israel. "They were 14," he recalls, "and I think they could relate to me because I was not much older. If I could do it, they could, too." Those first students led to a career-long emphasis on music education. Yehuda has a robust studio at MSU, and he says taking care of his students involves balance: "Aside from the Lansing Symphony, the bulk of my traveling for performances is in the summer. I learn so much from my students. When they figure something out, I discover something as well. It's similar to the collaboration between myself, audience, and composer. It's always about communication."
At the core of Yehuda's teaching philosophy is, of course, flexibility. "It's crucial to learn how to adapt your playing whether you're in an orchestra or a chamber group," he says. "Successful musicians are those who can shift on a dime. Doing one thing may have been the norm 50 years ago, but the music industry is different now. That old career path of doing one job doesn't exist for most people, and students need to learn how to be eclectic."
That flexibility applies equally outside the music world. "I have three young kids, and they take time outside of practicing and teaching." Yehuda is also an avid motorcyclist. "You can't be a great musician if you don't live, because music reflects life," he says. "Otherwise you're just pretending to portray life. I encourage my students to find hobbies. And they always find parallels anyway, just like I do. The music always finds a way to shine through."
Tools of the Trade
Guy Yehuda is a Selmer-Paris and Vandoren international performing artist and serves as an artist instrumental adviser for both companies. With Selmer-Paris, he has developed the new Privilege II clarinet.