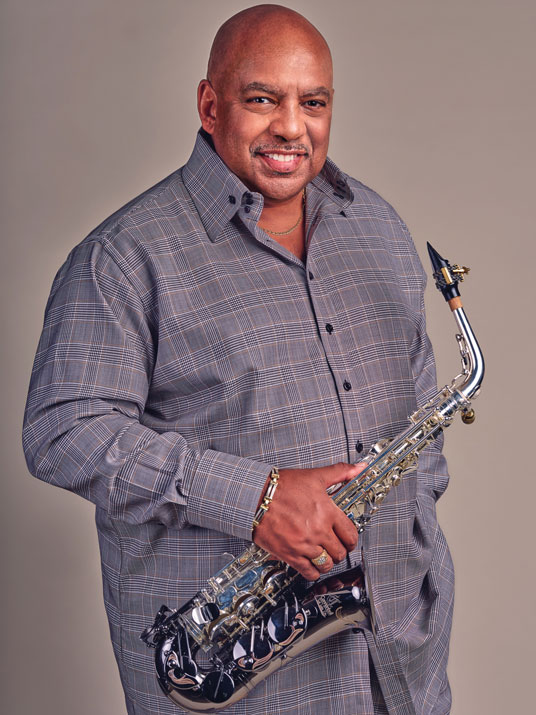 Saxophonist Gerald Albright of Local 47 (Los Angeles, CA) has dominated contemporary jazz since the 1980s. Albright made a name for himself as an R&B instrumentalist and his venerated status in the studio as a skilled session musician resulted in solo contracts with major labels. At 61, the eight-time Grammy nominee is still at the top of his game.
In 2016, he self-produced G under his own label, Bright Music. The opening track, titled "Taking Control," sends a clear message: He is forging a second career as an independent jazz artist. He created the horn sections, texturing alto, tenor, and baritone around the lead melody, while handling the thick bottom with bass guitar. Albright's newest album, 30, is an anniversary project of some his best music over the last three decades. Its big, multilayered sound is reminiscent of his high school band years in the 1970s, he says, where he learned to double on other instruments, an ability that has served him well.
Born and raised in South Central Los Angeles, Albright was influenced by gospel music. He began taking piano lessons from the church choirmaster, who also gave him his first saxophone when Albright was around nine years old. "It was like a toy. I can press these cool keys. Still, I knew it was the instrument I wanted to play," he says.
Albright was already an accomplished saxophonist by the time he enrolled at the University of Redlands. When he saw Louis Johnson in concert, he learned to play bass. After graduating from college, he got a call from Local 47 member Patrice Rushen, a friend from high school. Her record, "Forget Me Nots," was charting very well. Albright, who played tenor sax solo on the song, says, "She called asking me to go on tour, saying, 'I'd love for you to be a part of the horn section.'" So, from 1980-1985, he was on the road with her new band and later, when the bassist abruptly left in the middle of it, Albright replaced him and finished the tour on bass guitar.
Inspired by Maceo Parker (of the James Brown band) and Cannonball Adderley, Albright launched his solo career in the infancy of smooth jazz with Just Between Us in 1987 and has been at the center of the genre with chart-topping albums ever since. Albright has worked with Anita Baker, Ray Parker, Jr. of Locals 5 (Detroit, MI) and 47, Atlantic Starr, Stanley Clarke, Maurice White, and Les McCann and Quincy Jones, both of Local 47. He has enjoyed hit collaborations—24/7 with guitarist Norman Brown and Summer Horns by Dave Koz and Friends (including Mindi Abair of Local 47 and Richard Elliot). He's also been on the road with South African singer and guitarist Jonathan Butler.
In the late 1990s, he memorably toured with Phil Collins. "I was amazed that all these people came to see one guy on stage—looking out at the masses—you couldn't see the back of the audience. Venues were packed solid, in some cases 100,000. That solidified what success in music could be. As I toured with him on and off for several years, I took a lot of knowledge and applied it to my own career; same with Whitney Houston. These were steps for me to become a solo artist and front my own band." Albright adds, "I'm elated now to be almost 20 records deep in that career."
Although his style runs along the contemporary urban jazz and R&B spectrum, Albright says, "I approach it with more energy and more depth—what I'd like the audience to hear and feel. Feeling is just as important as hearing it. I want them to know I'm giving 100%. I want them to hear and feel the story that I'm trying to convey through my horn and it's genuine, not something fabricated. Whatever mood I'm in, without filters, comes through the horn to the audience. Genuine, honest—and all the hours I've put in to attempt to perfect this instrument. Above all, I want them to walk out of the venue feeling better than when they walked in."
Albright comes from a tradition of virtuosity, saying, "If Miles Davis was doing a show and you stepped up on his stage and he granted you five minutes to do a solo, you better be on your 'A' game. These days, persona and stage presence, often override commitment to horn or the voice." As he tours, he says, "I do see plenty of young musicians who could carry the baton."
In 2005, Albright and his family left Los Angeles for Colorado. He says, "I did some soul searching; I started looking at how records were being marketed, the strength of the Internet, looking at the budgets that had been depleted for artists to do their records, and the ownership of masters." Albright explains, "Basically, if you sign a record deal, you give away your masters, they take your licensing away." Albright had produced some of his own music at the outset of his career. Eventually, he says, "I was fortunate enough to work with labels that just said, 'Bring us a good record that we can market.'"
In LA, he was in "the clique." He had done a lot of sessions and several movies. Early on, Albright knew that, to be successful, he had to manage his own campaign, reaching out to as many artists as possible, getting his sound and style in as many places as possible. He built a loyal audience—a fan base to whom he felt he could easily market new music.
"I stepped out on faith. I let my manager go, I let my record company go, I even let my travel agent go, and put everything under the umbrella of Bright [Music]." He's never looked back, adding, "I'm happier now as an independent artist than I've ever been as an artist signed to a label."
For Albright, who joined the union in the '80s, it was very functional. He contracted signatory recordings through the union, saying, "Over the years, it's worked logistically. I love our union, and in terms of protecting musicians, they do a stellar job."
"It's a whole different way of marketing now," says Albright and that means leveraging his fan base. He has found excitement in the second stage of an already illustrious career. "Now that my record company has a nice foundation, we can fulfill some dreams. Now, I can record any album I want to record and not on a label's schedule." He's looking to dabble in different genres. Albright says, "I want to do a gospel record—keep the R&B and contemporary jazz—but do a traditional jazz record, a Christmas record. I want to be able to rent out a studio and bring in some favorite musicians and do it old school again, with real sound. The real deal."