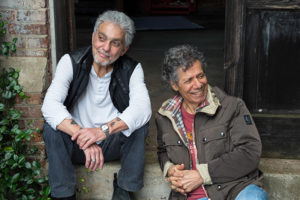 The University of Rochester's Eastman School of Music has announced that it will award Honorary Doctor of Music degrees to legendary musicians Steve Gadd and Chick Corea, both members of Local 802 (New York City). During the past year, the two musicians have toured together. They will receive the honors during their scheduled October 13 appearance at Eastman Theatre's Kodak Hall.
One of the most widely recorded drummers of all time Gadd is a Rochester native who has worked with many of the world's great jazz and rock artists, from Local 802 member James Taylor to Local 47 (Los Angeles, CA) member Lee Ritenour. His creative drum work can be heard on such hits as Local 802 member Paul Simon's "50 Ways to Leave Your Lover" and Steely Dan's "Aja."
A pioneer of jazz-fusion, Corea's career has spanned Latin jazz, avant-garde, rock, funk, and classical, having composed several classical works. He's received 22 Grammy Awards (63 nominations), the BBC Lifetime Achievement Award, and National Endowment for the Arts' Jazz Masters Award.